In a fight for survival, Sainsbury's is expected to scrap its huge new store opening program and slash its dividend, as fierce competition from discount stores Aldi and Lidl pushes sales down for the first time in nearly ten years.
On Wednesday, the company will unveil its plans.
Sainsbury's, one of the 'big four' UK supermarket chains, will be announcing a dramatic change in strategy, with the number one priority being cutting costs to save cash and prevent its balance sheet from turning distinctly red.
Update Nov 12, 2014: Sainsbury's posted a £290m pre-tax loss for the quarter ending Sept. 27th.
The supermarket's new CEO, Mike Coupe, aims to lower prices and expand its clothing, convenience store and online businesses, which are performing much better than its large supermarkets.
Ever since the global financial crisis hit in 2008, British consumer preferences have shifted, as have their shopping habits. Shoppers today are much more price conscious than they used to be. Price priority is likely to be here to stay, experts believe.
Mr. Coupe, who took over from Justin King on July 11th, 2014, told investors in October that he was carrying out a strategic review of all the company's operations. He will present the review's conclusions together with Sainsbury's interim results, which are likely to show a 12.5% decline in underlying pre-tax profits to £350 million, according to analysts' estimates.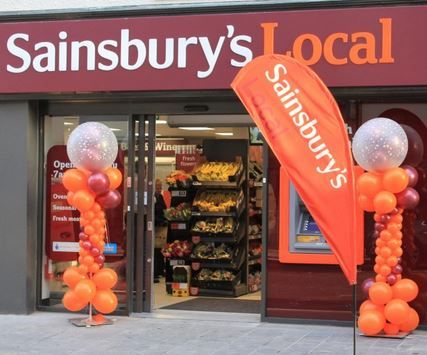 Sainsbury's smaller convenience stores are doing well.
The end of nine years of growth
Until the last quarter of the 2013/14 fiscal year, Sainsbury's was performing better than its rivals, with nine consecutive years of sales increases. During the past three quarters sales have declined. In its second quarter ending September 27, 2014, like-for-like sales fell by 2.8% compared to the same quarter last year.
With its share price falling by a third in the past year, Mr. Coupe is under enormous pressure to put forward a strategy that convinces investors that Sainsbury's is not on a downward path to deeper problems, like those experienced by rivals Morrisons and Tesco.
He said that in his 30-year career in the retail sector he had never seen such challenging conditions. He described the current retail environment as a "perfect storm" of falling prices and customers shopping around for good deals more than ever since the Great Recession. He also commented that consumers are eating out more frequently.
There was much talk among investors that Sainsbury's is considering launching a rights issue to pay for its new program. However, several UK newspapers have quoted unnamed sources familiar with the matter who say this has been ruled out.
The most likely move to protect its balance sheet against declining profits is a dividend cut. Analysts are predicting that Sainsbury's will slash dividends by up to one third.
Capital expenditure is also likely to be another target for cuts, especially as its smaller convenience stores are doing much better than the large out-of-town supermarkets.
With land destined for new, large supermarkets already purchased, Sainsbury's will have to write down their values on its balance sheet.
Morrisons to match discounters' prices
Morrisons, the smaller of the "big four", posted a 6.3% fall in sales in its last quarter, which was a smaller decline compared to the 7.1% and 7.6% posted in the two previous quarters.
The Bradford-based supermarket chain announced it would start price matching the discounters in its attempt to stop losing market share.