Sainsbury's reported yet another fall in quarterly sales as the UK retailer continues to struggle against competition from discounters such as Lidl and food price deflation.
Sales at stores open for at least a year dropped by 1.9 percent in the 10 weeks to March 14.
Its larger shops were hit the hardest, while its convenience stores and online operations posted a slight improvement in performance.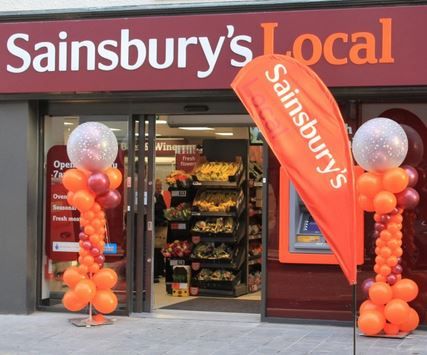 Sales at its convenience stores rose by 14 percent.
Chief executive Mike Coupe said:
'We expect the market to remain challenging for the foreseeable future. Food deflation is likely to persist for the rest of this calendar year, and competitive pressures on price will continue,'
Discount retailers such as Lidl and Aldi have managed to gain more market share over the past couple of years, while the UK's big four supermarket chains have struggled to hold their positions in the country's fiercest price war ever.
Over the last year shares in Sainsbury's have plunged 14 percent, closing yesterday at 268.5p – valuing the business at £5.1billion.
The four major retailers are currently offering spectacular prices in an attempt to regain customers. Asda, Tesco and Morrisons have slashed prices.
Sainsbury's operates 597 supermarkets and 707 convenience stores.
The chain has cut costs, dividends and new store openings to pump £150million in lowering the prices of its products.
Since November last year the retailer has cut over 1,100 prices.
One of Sainsbury's biggest threats is Tesco's recovery
Coupe believes Sainsbury's will outperform its rivals. However analysts warn that one of the chain's biggest threats is the recent recovery of Tesco, the UK's largest supermarket chain.
Analysts are optimistic about Tesco's future under its recently-appointed CEO Dave Lewis. Sales at Tesco was much higher than its competitors over the past few months.
The most recent figures from Kantar Worldpanel show that Tesco had its strongest performance in a year and a half, posting sales up 1.1 percent in the 12 weeks to March 1.
According to This is Money, John Ibbotson at Retail Vision believes the Strategic Review that Mike Coupe plans on implementing should be done sooner.
'With Tesco slowly dusting itself off under Dave Lewis, and its market share almost twice that of Sainsbury's, it holds all the cards in the price game, with bigger margins to give back to its customers.
'Without better prices, Sainsbury's is not going to catch the resurgent Tesco.'
The chain will post full-year profits in May
In May Sainsbury's will post its full-year profits –  the first time since Mr Coupe has been at the helm.
The chain is expected to post its first decline after nearly a decade of growth.
Analysts forecast a 17 percent drop to £659million.