Facebook is offering an easy way of sending money to friends via its upgraded Messenger app.
On Tuesday the tech giant announced that Facebook friends can now send money to one another in "a more convenient and secure way" for free.
All it takes to start sending money is have a user's MasterCard or Visa debit card account linked to their Facebook account.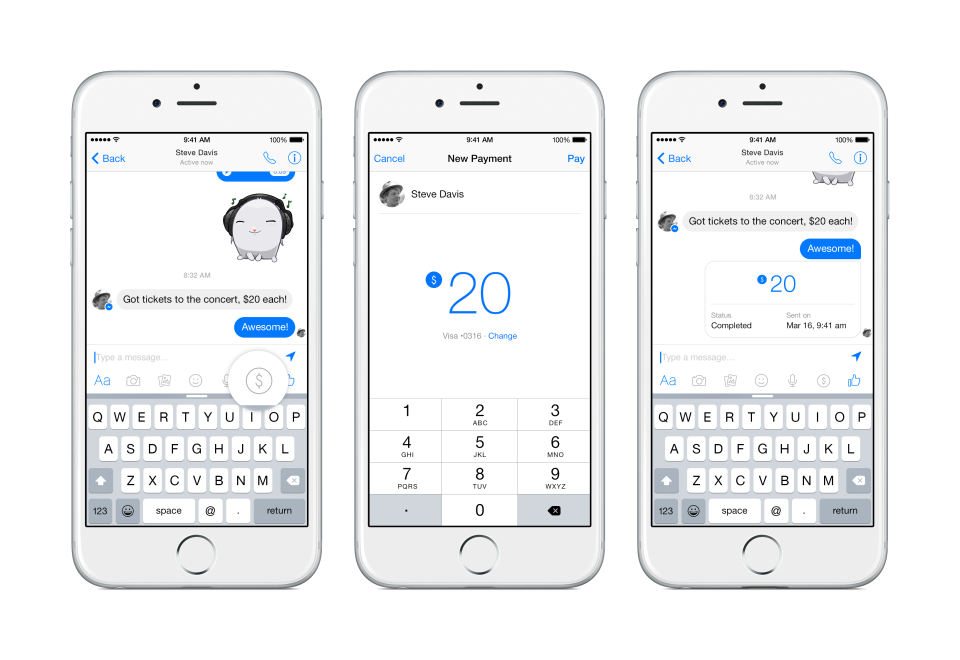 Facebook's new mobile money transfer feature.
Facebook said that "once you add a debit card, you can create a PIN to provide additional security the next time you send money. On iOS devices you can also enable Touch ID. As always, you can add another layer of authentication to your account at any time."
While chatting with a friend on the Facebook Messenger app people can activate the feature by simply tapping on a dollar sign in the chat window.
Facebook has been meaning to offer this feature for a while now, especially given the number of competitors that have offered its users a quick money transfer service.
Snapchat partnered with Square late last year to allow users to quickly send money to one another.
The move could help Facebook lure in more people to use its mobile app.
Facebook has a good share of the mobile messaging market, with around 1.2 billion monthly users using it's messaging app. It also owns WhatsApp, which has around 700 million users.
Video of Facebook's new mobile payment feature
---
Until now none of Facebook's chat services offered a mobile payment feature, which according to Ian Sherr, executive editor at CNET, is "becoming one of the biggest trends in Silicon Valley".
Last year Apple Pay was launched, allowing iPhone owners to use their devices to pay at point-of-sale terminals, and other tech firms such as Google and Samsung are working on new mobile payment features.
According to Facebook, its payment service will be rolled out on iOS and Android devices in the coming months for US users.