The South Korean multinational electronics giant Samsung Electronics Co. Ltd. announced a plan to spend $14.7 billion on a new chip plant at its Godeok Industrial Complex in Pyeongtaek, about 47 miles (75 kilometers) south of the capital Seoul.
The provincial and municipal governments of Gyeonggi Province have committed to cooperate with the electronics giant in the building and operation of the new factory. They say they will also provide assistance in getting the necessary infrastructure ready. The decision to invest in the new plant was made one year earlier than originally planned thanks to local government support, Samsung emphasized.
According to Samsung, construction of the new 790,000m2 mega-plant will start next year, with production starting in 2017.
CEO and Vice Chairman of Samsung Electronics, Dr. Oh-Hyun Kwon said:
"Our investment into the new fabrication plant will significantly influence the shaping of Samsung's future semiconductor business."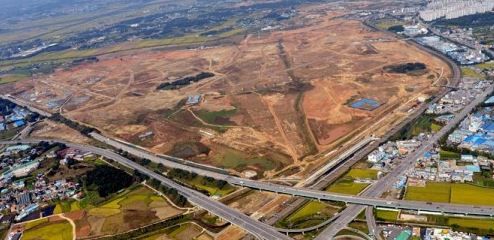 Samsung's new chip plant in Pyeongtaek will create 150,000 jobs.
Smartphone business waning
Samsung's largest ever investment on a single factory aims to boost its semiconductor business as smartphone sales come under fiercer attack from competitors, specifically from Apple in the high-end device market and Chinese rivals such as Lenovo in the cheaper phones segment.
Samsung's smartphone business represents about 60% of its operating profit. The Suwon-based company wants its semiconductor division to make up a larger proportion of its operating profit.
Analysts see Samsung's memory chip business remaining strong for the rest of this year. Tight global supplies are expected to keep prices high for some time to come.
The world's number one memory chip maker expects the investment will create about 150,000 jobs, which represent nearly one third of Pyeongtaek's total population.
Weaker financials in 2014
Samsung's second quarter (April-June period) profit was 20% lower than in Q2 2013 and 17% less than in the first quarter, due to sluggish smartphone sales and a strong Korean currency, the company said in July. Q2 net profit came in at $6.1 billion (₩6.25 trillion).
Samsung is in the fortunate position of making money when its mobile device rivals do well, because demand for mobile chips increase, meaning more business for its semiconductor division.
Samsung has not yet decided whether the Pyeongtaek factory will manufacture memory or logic chips. Logic chips process decisions, rather than storing memory. Microprocessors – the brains of smartphones – are logic chips.
The company aims to manufacture more sophisticated processors, which will be used in smart homes, smart cars and wearable devices.
About Samsung Electronics Co. Ltd.
Samsung Electronics Co. Ltd. (Korean:삼성전자; Hanzi: 三星電子) is headquartered in Suwon, South Korea. It is the largest subsidiary of the Samsung Group, representing more than 70% of the all its revenue.
Since 2009, the company has been the largest information technology company in the world since 2009. It has sales networks and assembly plants in eighty nations and employs 370,000 workers globally.
Apart from being the world's largest manufacturer of mobile phones and smartphones, it is a major maker and seller of tablet computers. It also makes electronic components, such as lithium-ion batteries, semiconductors, chips, and the drive devices for several major high tech companies, including Nokia, HTC, Sony and Apple.
Since 2002, the company has been the world's largest LCD panel maker, and the world's biggest TV manufacturer since 2006. It forms a major part of South Korea's economy.
On October 7, Samsung warned that profit for Q3 2014 would be 60% down on the same quarter last year (a fall from 10.2 trillion won to 4.1 trillion won).