Samsung has launched a new web browser for those with the Samsung Gear VR headset. The move represents a promising step forward in the application of virtual reality.
Samsung VP Chan-Woo park said the following about the new feature:
"As a pioneer in the mobile VR industry, Samsung has continually worked to provide our users with a fully immersive mobile experience in the evolving world of virtual reality. As the demand for 360-degree, immersive video content rapidly rises – Samsung Internet for Gear VR further enriches the VR content ecosystem for our consumers, setting an industry standard for the VR viewing experience."
The web browser is available to download on the Oculus Store (currently in beta testing).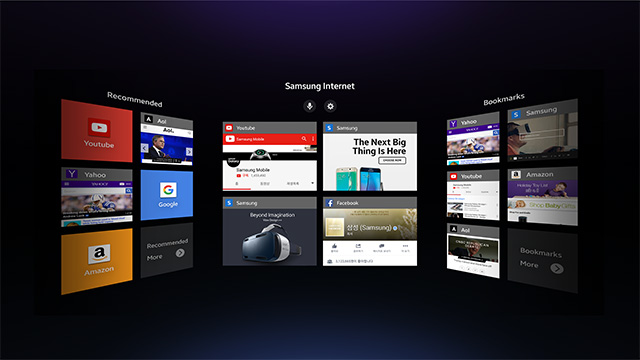 Samsung virtual reality web browser. Photo Credit: Samsung
The browser has what's called "Gaze Mode", which allows users to select menus by looking at them. It doesn't require the use of a touchpad or controller, and the company says that people can import their bookmarks.
The new feature is being labeled by Samsung as an "optimized" virtual reality (VR) browser.
VR users can "enjoy a variety of on-line content by browsing the web. It supports both 360-degree and 3D video streaming, as well as any HTML5 video from the web, allowing users to enjoy video content in a fully immersive environment," Samsung said.
It is more immersive the the typical experience of browsing the web, but as Android Police puts it, the feature "may not be quite as exciting as riding a helicopter over the Hawaiian islands."
---
But it should be noted that the nature of how web content has been created, for the most part, for conventional use – not VR. That being said it would be interesting to see how web content changes once VR becomes a more common means of web browsing.
Samsung said that supported devices for the VR browser include: Galaxy S6, Galaxy S6 edge, Galaxy S6 edge+, Galaxy Note 4 and Galaxy Note 5 with Gear VR.