A massive whale stranding has created a graveyard on a southern Chile beach, where so far 337 sei whales have been counted. According to experts, it is one of the largest strandings ever recorded.
In an interview with the Associated Press, biologist Vreni Haussermann, Ph.D., scientific director of the Huinay Scientific Field Station, which is located in the Comau Fjord in Chilean Patagonia, said she and some other scientists made the discovery in June during an observation flight over Chile's fjords in the southern Patagonia region.
Since the discovery, Dr. Haussermann and colleagues have been gathering samples.
Dr. Haussermann says she has some conclusions on why the whales, in so many numbers, have ended up on the beach. However, she declined to disclose what they were, adding that they will be published in an academic journal in the near future.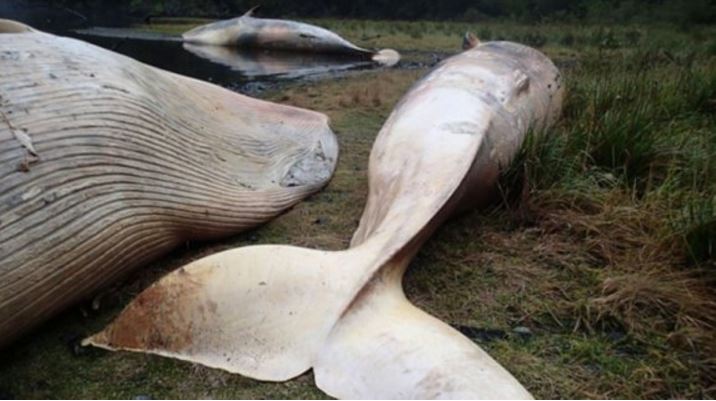 Nobody appears to know why the whales have died. Human intervention, however, has been ruled out.
The scientists reported 305 sei whale carcasses and 32 skeletons from data gathered and analyzed from aerieal and satellite images in an area between Puerto Natales and the Golfo de Pemas (Gulf of Penas, means Gulf of Distress).
According to El Dínamo, a number of stranded whales were reported in the Golfo de Penas, but the vast majority were found near Puerto Natales.
Terra Chile quoted Dr. Haussermann as saying (translated from Spanish):
"During the aerial observation it was not possible to get an accurate estimate of the number of skeletons, because of the airplane's speed and height," ("Pero la verdad que no buscamos en forma detallada más esqueletos porque durante el vuelo los esqueletos no se pueden ver por la velocidad… y por la altura.")
El Dínamo quoted Dr. Haussermann, who said (translated):
"The whales we spotted during the flight were of the same size and shape, making it most likely they are sei whales." ("Las que vimos en vuelo tenían el mismo tamaño, la misma forma, así que lo más probable es que sean todas sei.")
We do not know much about sei whale populations, because in the southern hemisphere their habitat is generally far from the coast.