With Apple's iPhone making gains in the high-end smartphone market and Chinese brands in the low-end segment, Samsung warned today of a 60% fall in profit for Q3 2014 compared to Q3 2013.
In a preview of full earnings, which will be announced later in October, the world's largest smartphone maker said profit for Q3 2014 will be approximately 4.1 trillion won, which is way below investors' expectations of about 5.2 trillion won. In Q3 2013, the company posted profit of 10.2 trillion won.
The Suwon-based multinational giant said poor sales of its Galaxy models for the Jul-Aug-Sep were the main reason for the dramatic fall in profit. Even before the third quarter, Q2 sales had also been down, which meant that vendors had plenty of stocks coming into the third quarter. Galaxy sales are predicted to have fallen by 20% compared to a year ago, to 47 trillion won, which is less than analysts' expectations of 50.4 trillion won.
Operating margins of smartphones declined in the third quarter, Samsung informed, mainly due to higher marketing expenses related to aggressive promotions, plus price discounts.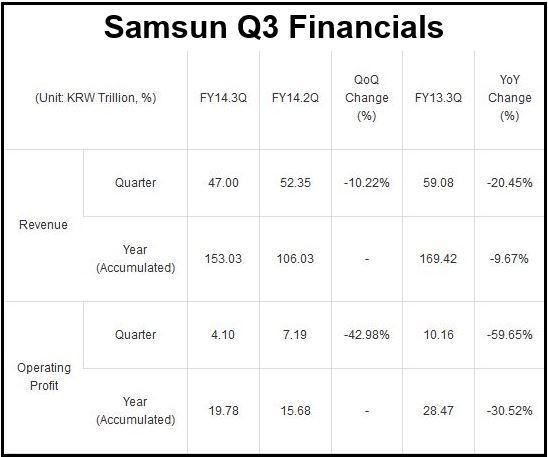 (Source: Samsung Electronics Pre-Earnings Guidance – 2014.3Q)
Its consumer electronics division also posted weak sales, partly driven by discounts on the price of TVs and an earlier-than-expected peak in some seasonal products (summer), such as air conditioners.
Earnings for the memory (chips) business was better in the third quarter, led by strong seasonal demand momentum , including servers and PCs, tight market supply, and cost reduction due to better process migration.
Outlook for the fourth quarter
For Q4 2014, uncertainty of the Information Technology & Mobile Communications (IM) business continues. Samsung says it "cautiously" predicts greater shipments of new smartphones and strong seasonal demand for television products.
Samsung wrote, regarding its expectations for the fourth quarter:
"To secure sustainable mid- to long-term growth despite intensified competition, Samsung is preparing new smartphone lineups featuring new materials and innovative designs, as well as a series of new mid- to low-end smartphones with strong competitive positioning on both hardware specifications and price."
"For component businesses, including OLED, the Company will continue to enhance competitiveness by continuously strengthening technological innovation and expanding its customer base."
Massive chip plant investment announced
On Monday, Samsung announced it was going to invest $14.7 billion to build a new chip plant in its Godeok Industrial Complex located in the town of Pyeongtaek, about forty-seven miles (75km) south of Seoul.
The decision to invest in the new plant was made 12 months earlier than planned thanks to support from local governments, the company stressed.
Building the 790,000m2 mega-plant will start in 2015, and production is scheduled to begin in 2017.
Dr. Oh-Hyun Kwon, CEO and Vice Chairman of Samsung Electronics, said:
"Our investment into the new fabrication plant will significantly influence the shaping of Samsung's future semiconductor business."