Children will see the Santa sleigh tonight in the sky over Britain. In fact, it will be the International Space Station orbiting 250 miles directly over the United Kingdom on Xmas Eve. Parents wishing to get their younger children excited could be forgiven for mistaking the space station for Santa Claus rushing to get the last presents delivered.
For older children it could be a moment to have a look at the sky and perhaps herald a lifelong interest in stargazing, space travel and ISS.
The International Space Station (ISS) is the largest human-made object ever created for space. It measures an amazing 109 metres (356 feet), which is slightly bigger than a football field, and weighs 45 tonnes.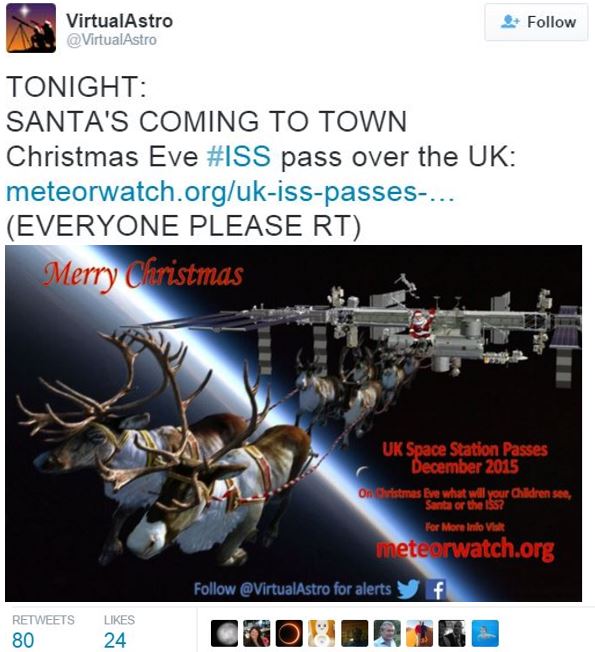 If the skies are clear and you live in the UK, take your kids outside and look up between 4.42 and 5.50 pm today. (Image: twitter.com)
NASA says ISS is a microgravity laboratory that houses six crew members who live and work while whizzing around their home planet at 5 miles per second. It completes one full orbit every ninety minutes.
Giant solar panels shine in the night sky
ISS has giant solar panels that capture the Sun's energy-giving rays, making it shine like a bright star in the night sky.
---
---
According to VirtualAstro, who regularly announces ISS' position over Earth, the space station will be directly over Britain on Christmas Eve, rising in the west at 4.42 pm, and setting in the south at 4.50 pm.
VirtualAstro wrote in a tweet:
"When the ISS passes over it will appear as an incredibly bright star like object or plane without flashing lights moving across the sky, it can be at times the brightest object in the night sky second to the Moon."
"As the station rises (from a westerly direction) it usually gets brighter but can be a challenge to spot at first. Make sure you have checked where it will rise from."
Christmas Eve could be the moment your boy's or girl's love for astronomy is born. (Image: twitter.com)
ISS is a spectacular human achievement
Since November 2000, the ISS has been occupied non-stop. During that time, more than 200 astronauts from 15 different nations have stayed there.
ISS crew members spend about 35 hours each week carrying out research on a number of disciplines to advance scientific knowledge in biological, space, physical and Earth sciences, for the benefit of humankind.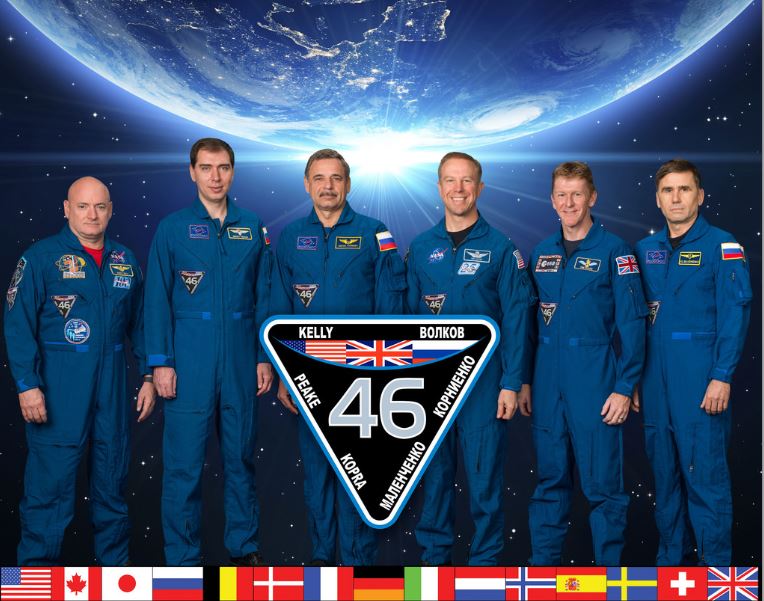 Who is at the International Space Station Now? (From left to right) Commander Scott Kelly (USA), Sergey Volkov (Russia), Mikhail Kornienko (Russia), Timothy Kopra (USA), Timothy Peake (UK), and Yuri Malenchenko (Russia). (Image: flickr.com/photos/nasa2explore)
According to lore, Santa Claus' sleigh is pulled by eight reindeer, Cupid, Comet, Vixen, Prancer, Dancer, Dasher, Dunder (Donner or Donder), and Blixem (Blitzen or Blixen). Rudolph, the one in front with the red nose, was added in the twentieth century.
The European Space Agency wrote in its blog:
"The orbiting research centre will pass over Spain on the 24th so observers in England should see it low in the sky looking to the South West."
"On 25 December the Space Station passes over the Spanish-French border soon after sunset in England. It would have an elevation of about 30° in SW England and about 20° if viewed from the London area. As the sky will still be lit by the Sun from this direction the Space Station will not appear as bright on launch day, 15 December, for Tim Peake, Yuri Malenchenko and Tim Kopra. Experienced observers should have no problem spotting the Station even without binoculars."
If you aim to take a picture, use a tripod and set the camera's shutter speed to a long exposure of up to one minute. The ISS will always arrive from the west and will appear as a white streak in the photograph.
Video – Christmas in zero gravity
British astronaut Tim Peake and colleagues, Tim Kopra and Scott Kelly, show what it is like to spend Xmas on zero gravity space.