Saudi Arabia is considering to go ahead with an initial public offering (IPO) of its state-owned giant oil company, Saudi Arabian Oil Co., or Aramco.
On Friday the company said that it was exploring options "to allow broad public participation in its equity," including an IPO of the group or some of its subsidiaries.
According to Jason Tuvey, an economist at Capital Economics, the company could be valued anywhere between $1 trillion to $10 trillion – making it the most valuable company in the world.
Aramco pumps around 12% of the world's crude oil and has both the world's largest proven crude oil reserves, at more than 260 billion barrels (4.1×1010 m3), and boasts the largest daily oil production.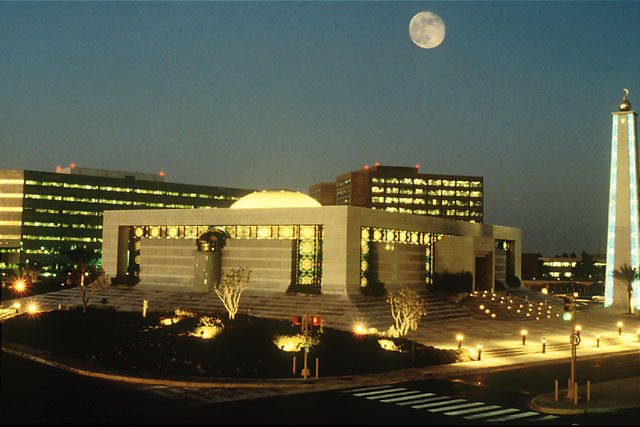 Aramco headquarters in Dhahran, Saudi Arabia.
Oil accounts for approximately 75% of Saudi Arabia's revenue and the country has taken a huge hit amid plunging prices of the commodity.
Luay al-Khatteeb, energy security expert and a fellow at the Brookings Doha Center, was quoted by CNN as saying:
"Saudi Arabia is experiencing uncontrollable and unsustainable spending on defense and subsidies… they are desperate to raise cash,"
As for who is likely going to win the Aramco IPO, a Bloomberg report said (citing people familiar with the matter ) that "JPMorgan Chase & Co. and HSBC Holdings Plc are among international lenders in the best position to win a role if the kingdom goes ahead with an IPO of Saudi Arabian Oil Co., or Aramco,"
JPMorgan and HSBC helped arrange a $10 billion loan for the company last year, giving them a significant advantage over other investment banks that do not have as much experience or presence in the region.
The oil giant, based in Dhahran, was founded in the 1930s as the Arabian American Oil Company. In the 1970s the company became fully state-owned. It currently operates the Ghawar Field, the world's largest onshore oil field, and the Safaniya Field, the world's largest offshore oil field.