Did you know that there are savings accounts in the UK that pay zero interest, and several others with interest rates of less than 0.02% per year? The Financial Conduct Authority carried out an investigation into savings accounts across the nation and published its findings.
The Post Office, supposedly the flagship of honest and fair high street practices, does not pay one penny in interest – you could have thousands of pounds lying there in a 'savings' account, but earning no interest at all. This is money that the bank uses to lend to people, for which it does charge interest and makes a tidy profit.
The Post Office easy access cash savings account came top of the league of rip-off savings accounts in Great Britain.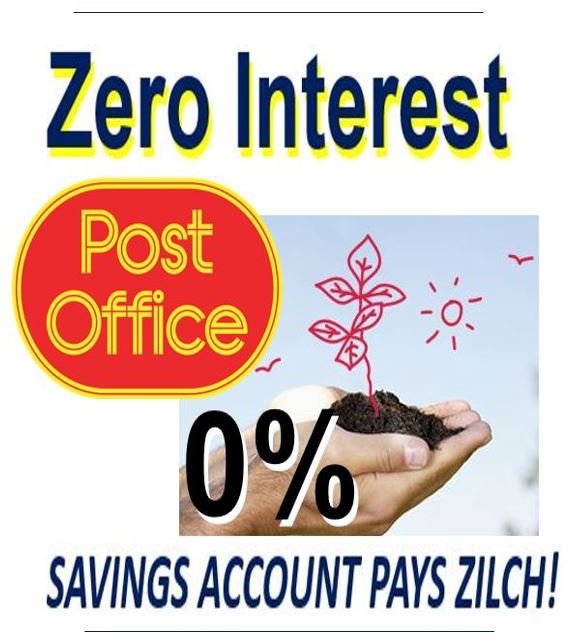 The Post Office advert for savings has a person's hand holding some earth with a plant sprouting out of it, as you can see in the image above. Doesn't that suggest to you that your savings will grow? Do you think the Post Office has an obligation to tell its customers that their 'savings account' is earning zero interest? The Financial Conduct Authority does.
The Worst Performers
Below is a list of the worst performers in the UK – savings accounts that can be accessed at a branch:
– Post Office: 0%
– Danske Bank: 0.01%. If you have £1,000 saved in this account, after one year you will have earned 10 pence.
---
---
– Ulster Bank: 0.01%
– First Trust Bank: 0.05%. If you have one thousand pounds save in this account, after 12 months you will have earned 50 pence.
– HSBC: 0.05%
– Co-op: 0.06%
– Bank of Scotland: 0.1%. One thousand pounds saved in this account will grow by a whopping one pound after one year.
– Cambridge Building Society: 0.1%
If you have an account at the Post Office, the next time you go into a branch ask them what interest rate they are paying you for your savings. Do not forget that they are quite happy to charge people nearly 4% interest on their loans. (Image: Post Office Personal Loans)
– Clydesdale Bank: 0.1%
– Halifax: 0.1%
– Lloyds Bank: 0.1%
– OneSavings Bank: 0.1%
– Principality Building Society: 0.1%
– Santander: 0.1%
– Skipton Building Society: 0.1%
– Virgin Money: 0.1%
– Yorkshire Bank: 0.1%
---
---
Customers should be told
Customers who get mega-low rates of interest or zero on their savings account should be told, the Financial Conduct Authority (FCA) believes. They could all soon be receiving an email or text warning them that there are better deals on the market.
As from December 2016, building societies and banks across the country will have to provide a 'summary box' on statements, which will provide basic information regarding savings rates, thus making it easier for customers to make comparisons.
Danny Cox, who works for investment service Hargreaves Lansdown, told the BBC:
"Providers seem perfectly happy to let savings held in closed accounts wither on the vine," said Danny Cox of investment service Hargreaves Lansdown. This shows the importance of shopping around and switching accounts to make the most of your money."