Scotch whisky exports for the first six months of 2014 plummeted by 11% to £1.77billion, compared to £1.99 billion in H1 2013, the Scotch Whisky Association reported on Monday. However, the Association added that the outlook is promising, explaining that the recent decline was caused by economic headwinds and uncertainty.
Some key markets, such as those of Taiwan and France, bucked the recent trend and posted health gains.
Following ten years of rapid growth, demand for Scotch Whisky has matured in some markets.
Exports to France increased by 3% to 86 million bottles, which has become the largest market by volume, and by 6% in terms of value to £211 million, placing it in second place behind the United States.
The United Arab Emirates (UAE) posted a 26% rise in sales to £54 million. UAE is a hub for onward distribution to the Indian, Asian and African markets.
Australian imports of Scotch grew 4% to £37 million. Of particular note was a 31% jump in exports to India.
Twenty other top markets, including Japan and Canada also posted healthy rises.
In other major markets, however, in particular those of Asia and the Americas, sales fell significantly. China's decline was due to the well-documented anti-extravagance measures. The strong pound did not help either, the Association wrote.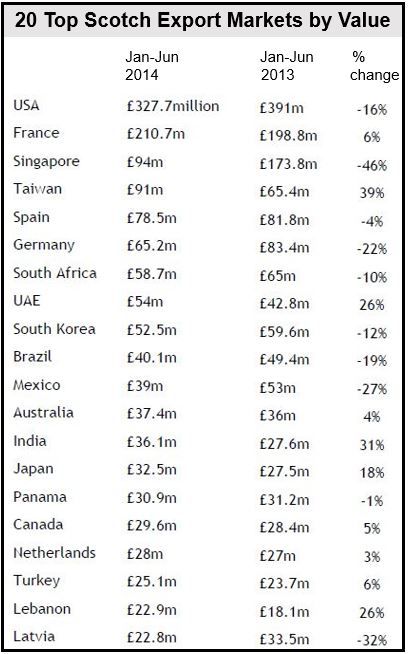 (Source: Scotch Whisky Association)
CEO of the SWA, David Frost, said:
"We are confident that Scotch Whisky will continue to grow in the long-term as markets stabilise and new ones, such as emerging economies across Africa, open up. However, it is clear that in the short-run that there are economic headwinds affecting exports."
"The latest figures also act as a reminder that the success of Scotch Whisky can't be taken for granted. We need support from government to beat down trade barriers and help us access new markets overseas. That is why we are determined to play a full part in the forthcoming debate about further devolution, so that it enables a supportive business environment to ensure the future success of Scotch Whisky."
The SWA informed that up to £2 billion in new capital investments in Scotland by producers will have an impact on figures over the medium-term.
Whether tumbling sales were affected by the run up to the Independence referendum is anybody's guess. The Scotch Whisky Association (SCA) however, believes the referendum result is likely to boost sales.
Exports in 2013 grew by 3% compared to 2012.