According to investment website Seeking Alpha, Sears Holding Corp. is closing more than 100 stores and laying off over 5,457 employees before Christmas. Stores being shut down include 100 Kmart, Sears Center locations and Sears locations.
In an email to Seeking Alpha, Howard Riefs, a Sears spokesman, wrote "We disclose our store counts at the end of each quarter. We don't have further comment."
Apparently, Mr. Riefs' name appears at the bottom of individual sale notices sent to local media since September.
After inquiring with stores, mall managers and people familiar with the business, Seeking Alpha found that at least forty-six Kmart stores,  thirty-one Sears Auto Centers and thirty Sears department stores are set to be shut down before January 31, 2015.
Seeking Alpha says Sears is liquidating its premises at the King of Prussia Mall in suburban Philadelphia, the largest mall in the country. The space will be sublet to Primark, the Irish clothing retailer.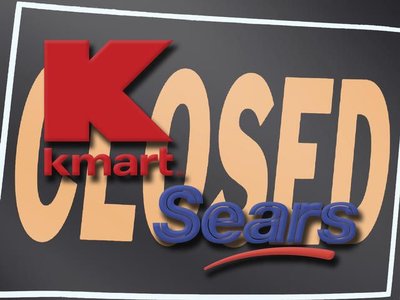 Mr. Riefs pointed out some inaccuracies in Seeking Alpha's report.
Sears' flagship store in Chicago was closed down in April 2014.
In August, the Illinois-based retailer said it had shut down ninety-six stores since February 2014, and planned to shutter another 130 by the end of the fiscal year. It also said it may consider closing down more stores.
In its shift to an "asset-light" business model, Sears is closing down stores to cut costs. During the first half of this fiscal year the company posted a loss of almost $1 billion.
On Monday, the company said it would raise up to $625 million through equity warrants and an unsecured loan. Half the equity will be bought by Eddie Lampert (Sears' CEO) and his hedge fund. Since the middle of September, it has announced three fundraising moves.
On September 16th, Sears stock plunged by -9.4% when news broke out that its chairman and CEO would be providing the company with a loan worth $400 million. The loan (with a base interest rate of 5%), was guaranteed by a first lien on 25 properties belonging to Sears.
On August 2nd 2014, Sears had 793 Sears, 1,077 Kmart stores, and 226,000 workers. On August 2nd 2013 it had 841 Sears, 1,195 Kmart stores, and 246,000 workers.