Second Cup, the Canadian coffee shop chain, is in the midst of a huge revitalisation. The company has completely revamped one of its coffee shops in downtown Toronto – the first step in its long-term plan to improve its image.
In a news release Second Cup called the revamp of its location at the corner of King Street West and John Street as its "café of the future", featuring its new branding.
Second Cup said:
"The updated brand — Second Cup Coffee Co.™ — reflects a new independent spirit, a commitment to the world's finest coffee, and the company's vision to be the coffee brand most passionately committed to quality and innovation."
The coffee chop is going to offer a wider range of coffee brew choices for customers, along with more food and beverage products.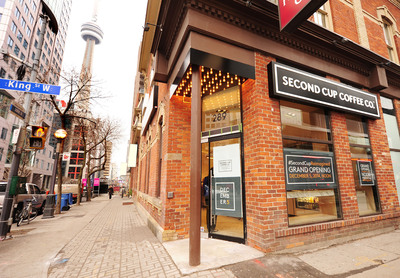 Alix Box, President and CEO, The Second Cup Ltd., said:
"This is an exciting, new beginning for Second Cup Coffee Co., This café is an important step in our revolution and reflects our passion for coffee in creative and collaborative ways. For me, the Steampunk embodies our new essence because it is a high-end artful machine that is famous with coffee connoisseurs and trendsetters around the world. The Steampunk exudes theatre, art and creativity, while at its heart, it is about coffee excellence. So is Second Cup Coffee Co. This is a great space to ignite customers' passion for the ultimate coffee experience."
With the new "Slow Bar" customers at the coffee shops can interact with the baristas preparing their drinks to suit them to the their' preferences with a Steampunk brewing system.
The Steampunk brewing system is a "high-end machine" and "the hottest new advancement in coffee excellence, currently being introduced in the finest cafés around the world."
Other significant changes include implementing built-into-the-counter, wireless charging pads for customers to quickly charge electronic devices while enjoying the café and a stylish, new employee dress code.
Second Cup operates over 300 cafes across Canada, serving more than one million beverages to consumers every week.