Business activity growth in the Eurozone fell to its lowest level this year, as prices fell for the 30th successive month, according to Markit's Composite Flash Purchasing Managers' Index (PMI).
The alarming data is likely to bring the European Central Bank closer to consider using unconventional tools within their mandate to bolster the economy and push up prices, something ECB President Mario Draghi mentioned on Monday. The Eurozone is sliding closer to a prolonged period of deflationary recession.
The Markit Flash Eurozone PMI fell to a 9-month low of 52.3 in September, from 52.5 in August. Anything over 50 points to growth in business activity. The Index has been above the 50 mark since July 2013, but is sliding downward.
According to Market, third quarter GDP (gross domestic product) growth is forecast to be just 0.3%.
New orders increased only marginally, with the rise waning for the third month running. September's increase in new orders was the lowest since August 2013.
Employment remained unchanged once again as firms, faced with weak sales growth, held back from hiring extra workers. While payrolls have risen for six successive months, the gains have been tiny.
In September, companies reported the steepest decline in backlogs since July 2013, suggesting they will have little reason to hire new staff in October.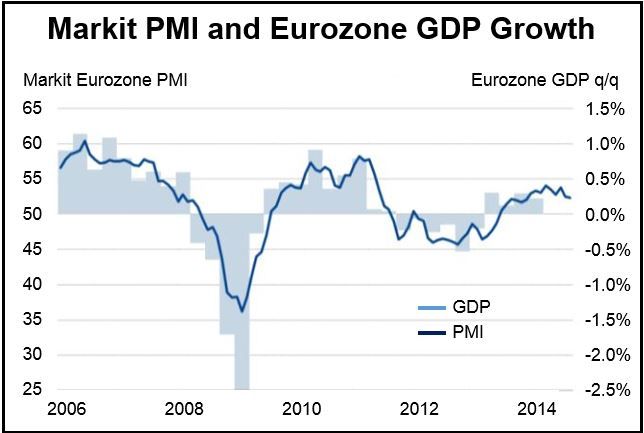 (Data source: Markit)
Ongoing malaise in the Eurozone
Chris Williamson, Chief Economist at Markit, said the latest survey reflects the ongoing malaise in the currency bloc. While output growth and demand slowed down, employment showed no meaningful increase. Such weakness meant prices continued falling as companies fought for market share. The Eurozone faces a serious risk of long-term deflation, he added.
While Germany is expected to help third quarter figures with 0.4% growth, France and Italy will more than likely offset that gain.
Mr. Williamson added:
"There are also worrying signs that growth could slow further in the fourth quarter. Inflows of new orders in the manufacturing sector are declining again, dropping for the first time in 15 months, and business expectations about the year ahead turned down in the services sector, led down by a slump in confidence in Germany."
"Concerns about the Ukraine crisis, related Russian sanctions and worries about the single currency area's general economic plight appear to be having an increased impact on the Eurozone economy."
Economists are concerned that the ECB's recent expanded efforts to stimulate the economy, boost demand and raise prices have not worked.