Alastair Lyons, Chairman of Serco Group plc has fallen on his sword, announcing on Monday that he intends to step down as soon as a new Chairman has been appointed to the beleaguered outsourcing firm.
Mr. Lyons said:
"The initial findings of the Strategy and Balance Sheet Review point to strategic and operational mis-steps at Serco for which, as Chairman of the board since 2010, I take ultimate responsibility. It is also the right thing for Serco to select a new Chairman, to take the helm for the future."
"Whilst colleagues have asked me not to resign, it has been my intention to step down once a new strategy and direction for the business were in place. I am, therefore, taking the necessary steps to ensure an orderly process for my own succession during the first half of 2015."
CEO Rupert Soames said:
"Whilst I respect Alastair's decision, I want to put on record the fact that he has done an outstanding job stewarding the Company through the travails of the last twelve months. Nobody could have worked harder or done more to get us to the point where we can now concentrate on building a solid future for Serco."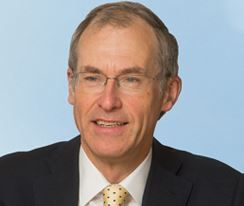 Mr. Lyons, who has been Chairman since 2010, says he will probably be stepping down in the first quarter of 2015.
Serco posted a pre-tax loss in August of £7.3 million due to loss-making contracts and reorganizing costs.
The company's fortunes took a nosedive last week when it announced that profits would be £20 million lower than its previous forecast, which had already been reduced. It also cut its guidance for 2015.
The loss of contracts also meant Serco had incurred £1.5 billion in writedowns, which sparked shareholder panic selling that resulted in the company's value dropping by half-a-billion pounds in one day.
In 2013, the Hook, Hampshire-based company was caught up in a tagging scandal. It had continued charging for monitoring criminals who were either back in prison, had gone abroad, or had died.
Serco is still paying for the massive clean-up operation for overcharging the government, which is by far its largest customer, to the tune of many tens of millions of pounds.
In 2013, Serco was banned from all government contracts for six months.