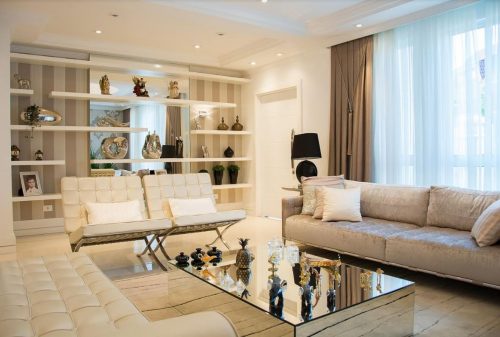 A living room is a place for relaxation, where you can enjoy a moment of peace. It's also the perfect spot to hang out with friends and family. But what if your living room doesn't feel like home? Is it time to give up on your couch or start all over again? No need to panic! Here are seven rules for the perfect living room:



Keep Things Tidy
Turn around and look at your sofa covers, pillows, and rugs. Are they clean? Well, cleanliness is the first and most important rule for any living space. If you can't keep your living room clean, then rest assured that it's not a place for you.
Make sure to take care of small things that can be easily overlooked, such as your window sills or baseboards. Dusting regularly will improve the ambiance in your living room dramatically!
Your furniture also needs love and attention from time to time. Dust off cobwebs with a brush or vacuum cleaner before they become big problems. Regularly clean up spills on rugs or carpets, because stains are never nice-looking. Use cleaning agents that won't damage your furniture. If you can't clean yourself, consider hiring a cleaning company to do it for you.



Never Overlook Natural Lighting
As much as you might enjoy basking in the glow of a lamp, natural light is always preferable. After all, you want your living room to be bright and inviting rather than dimly lit and cozy.
Open up those windows! Fresh air does wonders for your health and will give that alive feeling into any space.
You can also try placing mirrors around the room or use brighter colors if it still feels dark even with lots of sunlight coming inside through the windows. Also, remember to keep lamps on timers, so they're not always on.



A Well-Placed Rug Can Do Wonders
Area rugs are a great way to make your living room feel cozy. Not only do they add color and style, but they also help define different spaces in the room. Whether you go for a traditional rug or something more modern, make sure it's big enough to fit the space you have. And if you have hardwood floors, be sure to get a rug that won't slip around!



Create an Illusion of Space
If your living room feels cramped, there are ways to fix that without having to move or remodel anything! One easy way is by using lighter colors as opposed to darker colors. This will reflect more light and make the room feel airier. You can also try using vertical stripes on your walls, as these will also create an illusion of bigger space.



Add Some Personality With Artwork
One easy way to add personality to any living room is by adding artwork. Not only does it personalize the space, but it can also be a source of inspiration or relaxation. When choosing art for your living room, keep in mind the style of your home and what you want to achieve with the space.



Float your furniture
This is a great way to create a more open and airy feeling in your living room. Simply slide everything away from the walls, so it's all sitting on different planes of space. This will help define each piece while also creating an illusion of extra floor space!



Don't Be Afraid to Experiment!
The best part about decorating a living room is that there are no rules! So don't be afraid to experiment with different styles and ideas until you find something that suits you and your lifestyle. Whether it's a traditional living room or one with modern decor, make sure to keep things comfortable!
Do your research and look for ideas on Pinterest or other decorating websites. Once you have a general idea of what you want, it will be easier to find specific pieces that fit your style. Experiment as many as you can, and remember that it's OK to make mistakes. It takes time to find out what works for you!
Final Thoughts
Your living room is a reflection of your personality and lifestyle, so make sure to take the time to decorate it in a way that makes you happy. With these seven simple rules, you'll be on your way to creating the perfect living room for yourself and your family!
---
Interesting Related Article: "Flooring: The Living Room Edition"