There was a sharp Chinese import-export decline in March, according to the Chinese Administration of Customs, adding fuel to fears that the world's second-biggest economy is slowing down. Exports were 6.6% down in March 2014, compared to March 2013, while imports were 11.3% lower over the same period.
Exports had fallen by 18.1% in February compared to the same month in 2013. Exports had not dropped for two successive months since 2009.
Li Keqiang, China's Premier, said the country will roll out more policies to support growth, but will avoid major stimulus programs.
Does a Chinese import-export decline mean a slowdown?
Chinese authorities blamed February's sharp fall in exports on the Lunar New Year holiday period. However, analysts still viewed the slide as an economy losing steam.
China also registered its first trade deficit (-$23 billion) in 11 months in February. In March it registered a trade surplus of $7.7 billion.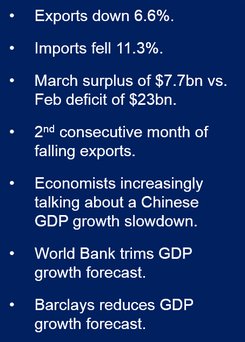 Economists had expected to see a rebound in both exports and imports in March. Data regarding China's retail and manufacturing sectors have also showed signs of weakness.
Chinese GDP growth forecast revised downward
Earlier this month the World Bank trimmed its forecast for Chinese GDP growth to 7.6% for 2014, from 7.7%. After describing China's Q1 2014 statistics as a "bumpy start to the year," the World Bank added that recent reforms will help the country achieve its goal of sustainable medium- and long-term growth.
Analysts believe the Chinese economy will gradually get an export boost as the advanced economies continue growing healthily. However, import growth is likely to remain sluggish, meaning the country's trade surplus will probably increase during the rest of 2014.
Last week, the Chinese government announced a small-scale stimulus package which included higher spending on railway infrastructure as well as tax concessions for small businesses.
Forbes quotes Barclays Capital economist Jian Chang who reduced her target for Chinese Q1 2014 GDP growth from 7.3% to 7.2%. Chang said "Our revision reflects more signs of soft domestic and external demand in the first quarter. We expect investment and construction activity to accelerate following project announcements by the central government and local governments since mid-March."
Video – Chinese imports-exports fall
Written by [google_authorship]