European customers have been warned that their Russian natural gas supplies could be in jeopardy if Ukraine does not resolve its $2.2 billion (€1.4 billion) debt with Gazprom, the Russian natural gas company. Energy economists wonder at President Vladimir Putin's wisdom in reminding Europeans further of the unreliability of Russian natural gas supplies.
Since Russia's annexation of Crimea, European leaders have become increasingly concerned at their dependence on Russia for their natural gas supplies. There has been talk about switching over to Norwegian gas, and even shale gas from the United States. Natural gas is a strategic resource, i.e. a key contributor to national security.
Could Ukraine tensions affect Russian natural gas supplies?
There is a fear that current tensions between Ukraine and Russia could lead to gas shortages throughout Europe. Many EU countries rely heavily on Russian natural gas supplies that flow through pipelines transiting Ukraine.
Europe is dependent on Russian natural gas supplies. (Source: ITAR-TASS)
Many had expected Putin to assure clients that their natural gas supplies would never be affected, not even by a problem with Ukraine.
To warn about possible natural gas supply cuts will eliminate any doubts from Europeans who advised policymakers to wait-and-see before considering switching suppliers, in other words, his threat will most definitely result in lower long term Rusisian natural gas sales to Europe.
Update (11 April, 2014): According to Reuters UK, Putin said in televised comments at a meeting of his advisory Security Council "I want to say again: We do not intend and do not plan to shut off the gas for Ukraine. We guarantee fulfilment of all our obligations to our European consumers."
In a sign of an easing off from brinkmanship and an effort to calm the waters, the office of Catherine Ashton, the EU's foreign policy chief, confirmed a meeting between US, Ukraine and Russian officials, and Ashton.
The German Chancellor Angela Merkel, who is on official business in Athens, Greece, said the 18 EU member states will make a common response to President Putin's letter. "There is good reason to take this letter as an opportunity to deliver a joint European response. We want to be good customers and we want to be able to rely on Russian gas supplies."
If Russia cuts off natural gas supplies to Ukraine, the EU says it will reverse the flow of pipelines back towards Ukraine. Ukraine's Minister of Energy and Coal Industry, Yuri Vasylovych Prodan, said "We are negotiating with the European Union about reverse deliveries into Ukraine. We will make gas purchases from reverse flows urgently, on the conditions offered by European gas companies."
Russia is highly dependent on the income from its natural gas sales to Germany, Italy and other European nations. The Eurozone countries get approximately 30% of their natural gas supplies from Russia.
Using energy as a tool of coercion
Jen Psaki, a US State Department spokesperson, today accused Russia of using energy as "a tool of coercion" to try to gain more control over Ukraine and intimidate the rest of Europe. Ukraine is having to pay Moscow gas prices that are not set by market forces, Psaki added. Market forces refers to supply and demand, which in a free market determine the price of goods and services.
Gazprom recently doubled the price Ukraine must pay for Russian natural gas. The US says it is liaising with Ukraine to help it find enough natural gas and provide financing.
Putin writes to European leaders
In a letter to the heads of 18 European countries, Putin says that Russia has supported Ukraine "right from day one as an independent state. In January 2009, with the participation of the then-premier Yulia Tymoshenko, a purchase-and-sale contract on supplying natural gas for the period of 2009-2019 was signed. The contract regulated questions concerning the delivery of and payment for the product, and it also provided guarantees for its uninterrupted transit through the territory of Ukraine."
"What is more, Russia has been fulfilling the contract according to the letter and spirit of the document. Incidentally, Ukrainian Minister of Fuel and Energy at that time was Yuriy Prodan, who today holds a similar post in Kiev's government."
He goes on to say that Russia has provided Ukraine with especially favorable prices. Over the past four years Russia has been subsidizing Ukraine's economy by offering knock-down natural gas prices worth $35 billion. "In addition, in December 2013, Russia granted Ukraine a loan of 3 billion US dollars. These very significant sums were directed towards maintaining the stability and creditability of the Ukrainian economy and preservation of jobs. No other country provided such support except Russia," Putin wrote.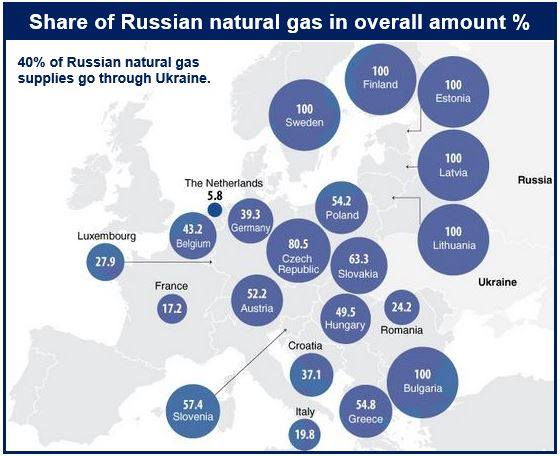 Five countries are totally dependent on Russian natural gas supplies. (Source: ITAR-TASS)
EU largely to blame for Ukraine's economic crisis, says Putin
Putin accuses Ukraine's European partners of empty declarations of intent with nothing of substance. "The European Union is using Ukraine's economy as a source of raw foodstuffs, metal and mineral resources, and at the same time, as a market for selling its highly-processed ready-made commodities (machine engineering and chemicals), thereby creating a deficit in Ukraine's trade balance amounting to more than 10 billion US dollars. This comes to almost two-thirds of Ukraine's overall deficit for 2013."
The Putin Administration believes that Ukraine's economic crisis has been caused by its lopsided trade balance with EU member states, which "in turn has had a sharply negative impact on Ukraine's fulfillment of its contractual obligations to pay for deliveries of natural gas supplied by Russia. Gazprom neither has intentions except for those stipulated in the 2009 contract nor plans to set any additional conditions. This also concerns the contractual price for natural gas, which is calculated in strict accordance with the agreed formula. However, Russia cannot and should not unilaterally bear the burden of supporting Ukraine's economy by way of providing discounts and forgiving debts, and in fact, using these subsidies to cover Ukraine's deficit in its trade with the EU member states."
According to President Putin, NAK Nasftogaz Ukraine's debt with Gazprom stood at:
Nov-Dec 2013: $1.451 billion.
Feb 2014: it increased by $260.3 million.
March 2014: it rose by another $526.1 billion.
Putin points out to the 18 European heads of state that in March 2014 Ukraine still had a knock-down price of $268.5 per 1,000 cubic meter of gas. "Even at that price Ukraine did not pay a single dollar," he adds.
According to Gazprom's agreement with Ukraine, it is compelled to switch over to advanced payment for gas deliveries, "and in the event of further violation of the conditions of payment, will completely or partially cease gas deliveries. In other words, only the volume of natural gas will be delivered to Ukraine as was paid for one month in advance of delivery."
Putin blames Europe for Ukrainian crisis escalation
The letter goes on to say that it has become increasingly more difficult for Russia to guarantee its natural gas supplies to Europe given that its European partners have unilaterally withdrawn from efforts to resolve the Ukrainian crisis. An accusation which will surely baffle and annoy European lawmakers.
Mr Putin concludes:
"There can be only one way out of the situation that has developed. We believe it is vital to hold, without delay, consultations at the level of ministers of economics, finances and energy in order to work out concerted actions to stabilize Ukraine's economy and to ensure delivery and transit of Russian natural gas in accordance with the terms and conditions set down in the contract. We must lose no time in beginning to coordinate concrete steps. It is towards this end that we appeal to our European partners."
"It goes without saying that Russia is prepared to participate in the effort to stabilize and restore Ukraine's economy. However, not in a unilateral way, but on equal conditions with our European partners. It is also essential to take into account the actual investments, contributions and expenditures that Russia has shouldered by itself alone for such a long time in supporting Ukraine. As we see it, only such an approach would be fair and balanced, and only such an approach can lead to success."
"Europe should help Ukraine"
Dmitry Sergeyevich Peskov, Vladimir Putin's Press Attaché, said Europe should help Ukraine. He added that the outcome of Russian-Ukrainian natural gas talks depend on how European leaders react to Putin's letter. He added that Russia so far has received no replies.
After talks with his Russian counterpart Anton Siluanov in Washington yesterday, US Treasury Secretary Jacob J. Lew said in a statement "The U.S. is prepared to impose additional significant sanctions on Russia if it continues to escalate the situation in Ukraine."
Video – Russian natural gas warning
Written by [google_authorship]