Recurrent Energy, Sharp Corp.'s US-based solar energy development unit, may be sold to Canadian Solar Inc. The Japanese multinational electronics corporation says it has not yet made a final decision on whether or how to go ahead.
According to the Nikkei business daily, Sharp and Canadian Solar had agreed on a $247 million (¥30 billion) deal, which would be completed early in 2015.
Sharp says it is considering several possibilities, including selling Recurrent Energy, "but there are no final decisions at this point."
According to Greentech Media, Canadian Solar has not acquired Recurrent Energy, which is still being pursued by a number of bidders.
In 2010, Sharp acquired Recurrent Energy for $305 million. Sharp's current equity ratio level is low, and such a sale would help address this problem.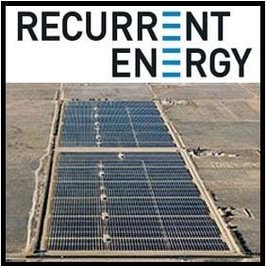 With a 3.3 gigawatt project pipeline and over 1.1 GW of signed contracts, Recurrent Energy claims to hold one of the biggest solar development portfolios in North America.
Earlier in 2014, Sharp abandoned a joint venture with Enel SpA to manufacture solar panels, and shut down its British solar plant.
Sharp has been producing solar cells for half a century and used to be the world's largest manufacturer of solar cells and panels, before China entered the market.
Recurrent Energy has developed and sold in excess of 520 megawatts of solar PV projects and secured over $4 billion of project debt and equity financing since it was founded in 2006.