Carlos Slim acquires AT&T's America Movil stake as the US telecom giant moves to avoid a conflict of interest after buying DIRECTV, an America Movil competitor in Latin America. Inmobiliaria Carso, which belongs to Slim, told the Board of America Movil about the purchase of AT&T's shareholding.
According to a filing, AT&T's 8.27% stake includes 23.81% of the firm's voting shares. When the sale is completed, AT&T is expected to receive $4.57 billion, and then an additional $1 billion within sixty days, the US multinational informed.
In a press release, America Movil wrote on Friday:
"Upon consummation of the transaction authorized today by the Board of Directors, AT&T will no longer be a shareholder of America Movil. America Movil recognizes the great value that the partnership with AT&T had for both companies for more than 20 years."
America Movil Shares up
After news of the agreed deal was published, America Movil shares in Mexico City rose to 13.29 pesos (3.6%), an 11-month record.
The sale is better for America Movil's share value. Had AT&T chosen to sell them in the open market, the flood of available shares would have pushed down the price. Since May 18th, when AT&T announced the agreed acquisition of DIRECTV, America Movil shares had declined by 3%.
By purchasing the stake, Mr. Slim guarantees his continued control of America Movil without clocking up debts on the company's already heavily-burdened balance sheet.
From old friend to competitor
With 18 million customers in Latin America, DIRECTV aims to expand in the region as the number of households wanting to subscribe to pay-TV services grows. America Movil, which offers telephone, TV and Internet services, is a DIRECTV competitor.
When the Slim-AT&T deal is concluded, it will end one of the US company's longest-lasting investments. Nearly twenty-five years ago AT&T was one of the founding investors into what became America Movil.
The New York Times quotes AT&T's CEO, Randall L. Stephenson, who said in May:
"Carlos and I have spoken and he is a very dear friend, but now he's going to be a competitor. And we recognize that, and off we go."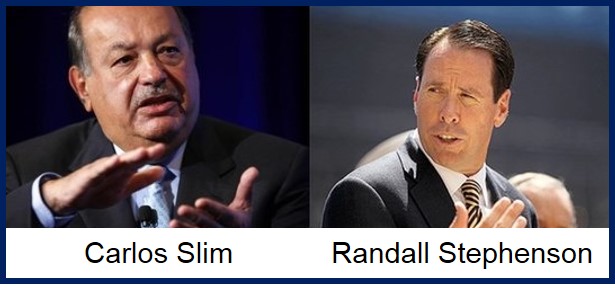 From dear friends to rivals.
AT&T needs the cash
Under the terms of the AT&T DIRECT TV acquisition contract, shareholders are paid $95 per share, consisting of $66.50 per share in AT&T stock and $28.50 per share in cash. The Carlos Slim deal provides the US company with more cash to complete the takeover.
AT&T, America's largest provider of fixed telephony, also informed that a group of banks led by Citigroup Inc. have agreed to buy as much as $2 billion in receivables. AT&T has sold $1.6 billion in future installment payments for devices for approximately $800 million (cash), the rest will be collected over time.
By the end of this year, AT&T says it will have raised an additional $2 billion in Connecticut from the sale of its assets.
If regulators approve the AT&T DIRECTV deal, the US company will have a 41% shareholding in Sky Mexico, the country's number 1 satellite TV service. The rest of Sky Mexico is owned by Slim's arch-rival Grupo Televisa.
On June 27th, AT&T's Board of Directors declared a quarterly dividend of $0.46 a share on its common shares, payable on August 1st.
America Movil, strengths and weaknesses
America Movil, which has made inroads into the European market recently, has debts totaling $33.6 billion, equivalent to 1.6 times EBITDA (earnings before interest, taxes, depreciation and amortization). In 2013, it failed in its attempt to acquire Royal KPN, the Dutch telephone carrier. America Movil has a 20% stake in KPN and is still interested in a deal.
Street Ratings rates America Movil as a "HOLD" and gives the company a ratings score of "C+". It says the Mexican telecom firm has a mixture of strengths and weaknesses, "with little evidence to justify the expectation of either a positive or negative performance for this stock relative to most other stocks." While its profit margins have improved, its net income has deteriorated, debts are high, and compared to the S&P 500 over the past 12 months it has not performed well.
The Slim family already owns about half of America Movil, which makes up approximately 50% his fortune, said to be worth about $68.8 billion. Carlos Slim Helú is the second wealthiest person in the world, after Bill Gates.
Video – Slim buys AT&T's stake in America Movil