Smart TV sales do not look promising when you ask consumers whether they are interested in making a purchase.
However, as soon as they know what a smart TV is and what it can do, their interest is aroused, says a new survey carried out by IHS inc.
The survey, carried out by HIS' TV Systems Intelligence Service, initially found that 73% of respondents had no interest in purchasing a smart TV during the coming 12 months.
Only 7% of consumers who were not aware of what smart TVs can do intended to buy one during the coming 12 months.
After providing information on smart TVs and what they are capable of, over 30% of consumers decided they wanted one within the next 12 months.
Veronica Thayer, an analyst for consumer electronics and technology at HIS, said:
"The latest results of the IHS U.S. TV Consumer Survey show that TV makers have both a challenge and an opportunity when it comes to selling consumers smart TVs. Few consumers at present want to buy smart TVs now. However, demand can be cultivated if television brands better explain to consumers what smart TVs are, what they do and why they should buy one."
Smart TV sales would improve if people knew about their features.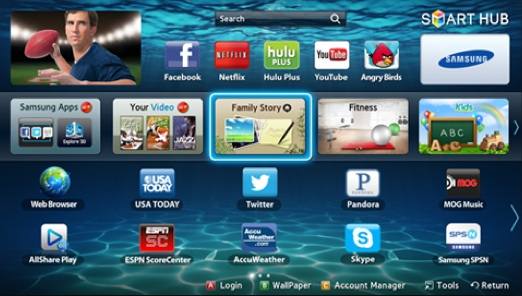 The following features exist in smart TVs and do not in the older sets:
On-demand video streaming
Just like smartphones, which integrate the device's operating system with a range of apps, smart TVs integrate many Internet features with their system.
Smart TV sales need smart consumers
Nearly 90% of existing smart TV owners have their sets connected to the Internet, while about 80% have used their TVs to access OTT services, including Amazon, Instant, Hulu Plus and Netflix.
Thayer said "This shows that alternative video services are becoming more popular and relevant among U.S. consumers."
The percentage of people utilizing smart TVs to access OTT services regularly is similar to that for those who stream content from Apple TV and Roku (86% and 79% respectively).
Among smart TV owners, 75% have a smartphone and 65% a tablet. Thayer suggests this could be an opportunity for secondary-screen applications.
Smart TV sales – consumers' priorities
Although shoppers like big screens, they are also becoming more price sensitive.
An IHS survey carried out last year found that over 50% of respondents thought screen size was a major factor in their purchase decision. However, this year price has become a higher priority than screen size.
Over the last two years, consumer TV purchases have not been significantly influenced by smart TV or 3-D TV aspects of the items people have sought. Rather, people's priorities included TV's LED (light-emitting-diode) backlighting technology.
Consumers are more attracted to smart TVs than 3-D TVs. Nearly three times as many survey respondents said Internet connectivity mattered more to them than 3-D.
Twenty-seven percent of those surveyed said they purchased a new TV during the previous 12 months. However, fewer (20%) said they plan to buy one next year – in 2012, those figures were 34% and 31% respectively.
Market Business News reported on another IHS survey which found that smartphone and tablet factory revenue will soon be greater than all other consumer electronic goods (including televisions) combined.