Apple sold more iPhones and iPads during the last fiscal quarter of this year.
However, the company only made $7.5 billion in profit compared to $8.2 billion during the same period last year, Apple announced.
Apple's fiscal 2013 4th quarter ended September 28, 2013.
The company's revenue for the quarter was $37.5 billion, compared to $36 billion during the same quarter one year ago.
Sixty percent of the quarter's revenue came from sales abroad.
Apple profits slide as margins are squeezed
The market for smartphones and tablets is becoming more competitive. Apple's products cost relatively more to make compared to most of its rivals, but it has had to squeeze margins in order to retain market share.
During the fourth quarter of the fiscal year, Apple sold:
33.8 million iPhones, twenty-six percent more than one year ago.
14.1 million iPads compared to 14 million during the same period last year.
4.5 million Macs, 7% less than one year ago.
The sale of iPods for the year, at 3.4 million, was 35% down on the previous year.
The company's gross profit margin was reduced to 37%, compared to 40% one year ago. Profit margins have been squeezed for seven consecutive quarters.
Apple expects its gross margin during this quarter to be from 36.5% to 37.5%. This forward guidance disappointed analysts.
Gross margin is the difference between how much one spends making a product against the amount consumers pay.
Tim Cook, Apple's CEO, said:
"We're pleased to report a strong finish to an amazing year with record fourth quarter revenue, including sales of almost 34 million iPhones. We're excited to go into the holidays with our new iPhone 5c and iPhone 5s, iOS 7, the new iPad mini with Retina Display and the incredibly thin and light iPad Air, new MacBook Pros, the radical new Mac Pro, OS X Mavericks and the next generation iWork and iLife apps for OS X and iOS."
Peter Oppenheimer, Apple's CFO, said "We generated $9.9 billion in cash flow from operations and returned an additional $7.8 billion in cash to shareholders through dividends and share repurchases during the September quarter, bringing cumulative payments under our capital return program to $36 billion."
Apple profits unsustainable without new products
Apple is under enormous pressure to accelerate its pace of innovation and roll out new products in the face of fierce competition from Google and Samsung.
New phones launched in September, and then the new iPad Air this Friday – but analysts say Apple must speed up innovation.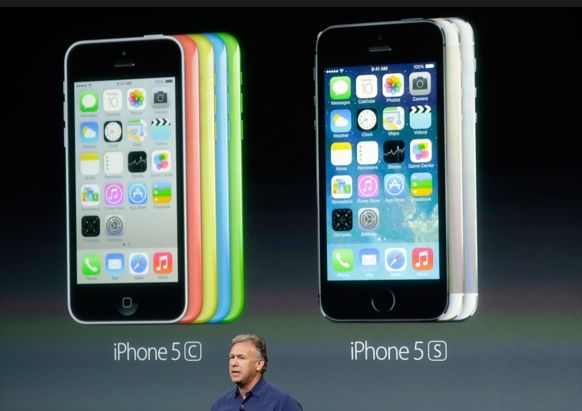 With falling margins, the only way it will be able to increase profits is either by going downmarket and selling cheaper products in huge numbers (this would be a completely new route for the company), or rolling out exciting new products.
The new iPad Air hits the shelves this Friday while the iPad Minis are expected in November. Erin Kennedy and Evan Niu wrote in The Motley Fool regarding Friday's launch, "There's one notable omission from this event: the new iPad Mini with Retina display."
Apparently, the delay in the launching of the iPad Minis is due to supply constraints.
Apple hopes to see impressive sales on its new product launch this weekend. In November 2012 the company sold over 3 million iPads in the first three days.
There is a lot of talk about new products for 2014. Apple is expected to launch an iPhone with a 30% bigger screen, an Apple TV and also the iWatch.
Would an iCar boost Apple profits over the long term?
Adnaan Ahmad, an analyst based in London who works for the German bank Berenberg, wrote an open letter to Tim Cook and Arthur Levinson of Apple calling on the company to acquire Telsa, the electric carmaker.
CNN Money quotes Ahmad, who says that if Apple moved into the automotive sector it may "give the company the kind of revenue growth that won't be sustainable from just smartphones and other mobile devices over the longer-term."