Smartphone and tablet factory revenue will soon be greater than all the rest of the consumer electronics market in 2013, says a new report by IHS, a global information company.
The authors of the report explain how consumer tastes have changed dramatically to "more exciting wireless products".
Globally, OEM (original equipment manufacturer) factory revenue for media and PC tablets, as well as 3G/4G mobile telephones will reach $354.3 billion this year, according to the Application Market Forecast Tool (AMFT) from IHS Inc.
The report adds that the cellphone market is dominated by smartphones.
The OEM factory revenue for the CE market, which includes televisions, camcorders, video game consoles, home appliances, cameras, audio equipment and hundreds of other product types for 2013 is estimated to reach $344.4 billion this year, 3% less than for smartphones and tablets.
The table below includes IHS history and forecast of OEM factory revenue for all tablet and 3G/4G cellphone types. Factory revenue is defined as the total OEM dollar value of all branded equipment and devices in the market. The history starts in 2007, when Apple Inc. introduced the first iPhone.
The boom in revenue during 2010 coincides with Apple's launching of the first iPad and the start of the media tablet market.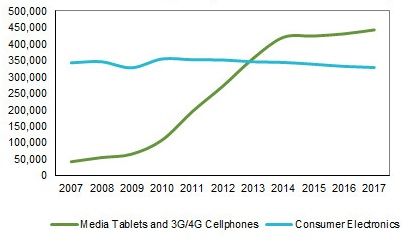 Randy Lawson, senior principal analyst for semiconductors at HIS, said:
"Consumer demand for smartphones and tablets has been flourishing in the past few years while sales growth for CE products has languished in the doldrums. The fact that these two product categories are on their own able to generate more OEM factory revenue than the entire CE market illustrates the overwhelming popularity of smartphones and tablets. Meanwhile, the CE market has gone flat, with many of the major product types experiencing either low growth or declines in revenue during the past six years.
Consumers simply are finding more value in the versatility and usefulness of smartphones and tablets, which now serve as the go-to devices for everything from phone calls, to photography, to navigation, to media playback, to fitness tracking. Because of this, smart mobile platforms are displacing sales of CE products such as digital still cameras, camcorders, GPS and media players."
The smartphone and tablet market explosion
OEM factory revenue in the smartphone and tablet market has been remarkable, and expanded by a factor of 9 from 2007 ($42.1 billion) to 2013 ($354.3 billion).
However, IHS says next year's increase will be a much more moderate 18% ($418.6 billion). As other CE factory revenue falls further next year, the smartphone and tablet market will have a market share 22.2% higher than the rest of the consumer electronics market. This share is expected to rise to 35% by the end of 2017.
On September 30th, Market Business News reported that Apple is now the world's most valuable brand, having taken first place from Coca-Cola.