UK economic growth accelerated to 0.8% in the 3rd quarter of 2013, compared to 0.7% in the second quarter, according to figures released by the Office for National Statistics.
The ONS (Office for National Statistics) added that output rose in all four main industrial groupings within the economy in the third quarter compared to the second:
The services sector now has a higher output than during the first quarter of 2008, just before the global financial crisis struck.
Despite a progressively accelerating economic recovery, UK economic growth during Q3 2013 has not yet managed to reach its pre-crisis GDP level.
Contributions to Q3 economic growth. (Source: ONS)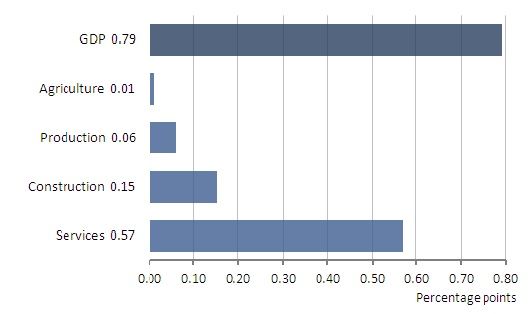 UK economic growth still has a way to go
At the end of the third quarter of this year, UK GDP was still 2.5% below its peak in Q1 2008.
From its peak in 2008 to its trough in 2009, UK GDP fell 7.2%.
The ONS reminds readers that GDP levels during the third quarter of this year were boosted by the Olympics and Paralympics which took place in the UK.
The Chancellor of the Exchequer, George Osborne wrote in Twitter "This shows that Britain's hard work is paying off & the country is on the path to prosperity," while Deputy Prime Minister, Nick Clegg said "(these figures) show that we are firmly on the road to economic recovery".
UK still behind some advanced economies
John Longworth, Director General of the British Chambers of Commerce, said:
"This is the highest quarterly increase we've seen in three years, so the economy is clearly moving in the right direction. Our own surveys have consistently shown that businesses are confident and recent economic data has been positive so we have much to be optimistic about.

But we are still behind a number of advanced economies such as the US and Germany that have managed to recover the output lost during the economic downturn. Much more needs to be done to transform our economy from being good to being really great. Businesses are in desperate need of better access to finance, and trade promotion has to be prioritised so that firms who are looking to do business overseas are able to take that first step towards exporting."
Inflation higher than UK economic growth
The Daily Mail warns that despite the promising news on the economy, wages have not been able to keep up with cost of living increases.
The CPI (consumer price index) rate of inflation rose 2.7%, more than anywhere else in the European Union. Wages in the private sector rose 1.1% and fell 0.5% in the public sector.
The Confederation of British Industry (CBI) welcomed the news. CBI Director-General said that business and consumer confidence will be boosted by this further confirmation that UK economic growth is on track.
Cridland warned that although growth is taking place across a broad base of economic sectors, much more needs to be done to make sure that the economy rebalances properly. Britain needs to see stronger contributions from net trade and business investment.
Cridland said "We expect business investment to pick up as confidence continues to build and demand and credit conditions improve. On exports, we need the Government to get behind our ambitious firms to help them sell their products and services in fast-growing markets around the world."
On October 4th, Market Business News reported that the British economy is growing faster than in any of the last 16 years.