Sony has officially launched its new Playstation Music app. The Japanese tech giant teamed up with Spotify to make a music streaming service available on the PS4, PS3, and Xperia mobile devices across 41 markets.
The streaming service, powered by Spotify, allows users to stream songs while they are playing video games – music can be played over the top of in-game audio.
The entire 30 million-track catalogue is available.
To use the app people need either a free or premium Spotify account. If PlayStation owners don't have an account then they can create one directly from their console.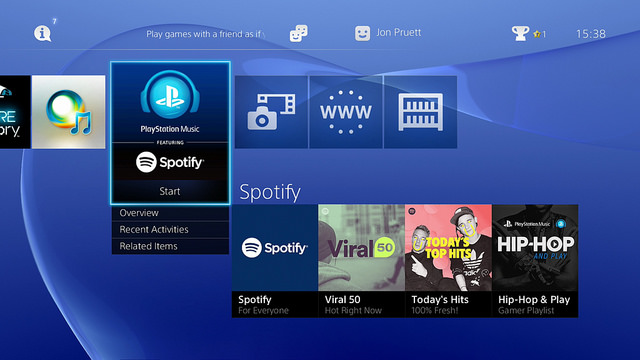 Music can be controlled directly from the console or by using a mobile or tablet with Spotify Connect.
Eric Lempel, VP, Sony Network Entertainment, said in a blog post:
"This exclusive partnership brings the best in music and the best in gaming together on PlayStation Network, and I am thrilled to announce that Spotify on PlayStation Music is coming to PS4 and PS3 today!"
"This is just the beginning of Spotify on PlayStation Music, which will continue to evolve. We are working with the team at Spotify to bring new and exciting features exclusively to our platforms."
---
---
In a statement Gustav Söderström, Chief Product Officer at Spotify, said:
"Music has always been a big part of gaming. I remember playing computer games like Quake and Counter-Strike with my favorite tunes on in the background — taking the experience to a whole new level.
With today's launch, we're bringing back that magic of gaming with music — all in a beautifully designed and smooth experience that looks great on the big screen."
---