Despite Google cooling things off with its Glass Explorer program, Sony has jumped in and is releasing its own version of augmented reality glasses.
The biggest difference at first glance between Sony's futuristic glasses and Google's is the price tag.
Sony's developer version of its "SmartEyeglass" costs $840, which is nearly half the price of what the Google Glass was going for before the tech firm stopped selling them last month.
Augmented reality refers to technology that provides extra information to things and places we are looking at.
"These are possible use cases, which will require dedicated applications and services." – Source: Sony
In an email to PCWorld, a Sony spokesperson said they decided to release the developer's version now because "as a hands-free device, SmartEyeglass can be a promising product with many practical uses."
"But since we recognize the need to explore applications at this stage, we're releasing this developer edition," the spokesperson added.
Sony's glasses use holographic wavelength technology that allows it to connect with smartphones and show information onto the users field of view —"without any half mirrors that may obstruct the user's vision," according to Sony.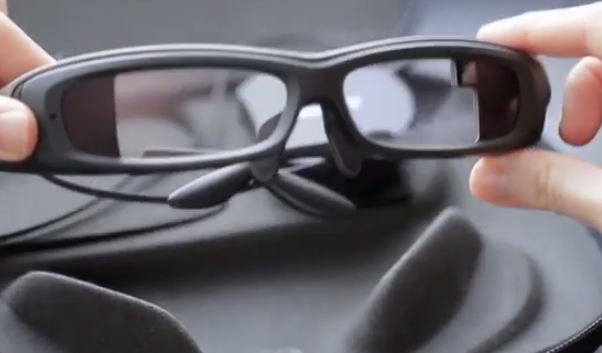 Sony said that the "SmartEyeglass includes unique holographic waveguide technology, which enables super thin augmented reality lenses with high transparency and excellent brightness." On the company website it also says that the SmartEyeglass "is lightweight, binocular eyewear that enables true augmented reality experiences. Text, symbols and images are superimposed onto your natural field of view."
Sony believes that "developers can combine the SmartEyeglass sensors and camera with the powerful features of the smartphone to create unique hands-free use cases. Whether you're watching a live game, concert, touring a new city or carrying out a job, SmartEyeglass helps you stay focussed and involved, whilst supporting and empowering you with extra data, help and information."
SmartEyeglass Developer Edition SED-E1: true augmented reality
Description:
"SmartEyeglass Developer Edition SED-E1 is a transparent lens eyewear that connects with compatible smartphones to superimpose information onto the user's field of view."
"SmartEyeglass Developer Edition SED-E1 includes unique holographic waveguide technology, which enables super-thin 3.0 mm augmented reality lenses with high transparency of 85% and excellent brightness, without any half mirrors that may obstruct the user's vision. SmartEyeglass Developer Edition SED-E1 will be available for sale in selected countries from March 2015."
---