SpaceX launched two all-electric satellites on its Falcon 9 rocket, which launched successfully on Saturday. The huge booster lifted off from Cape Canaveral Air Force Station, Florida, at 22:50 EST Saturday (03.50 GMT Sunday).
This marks Falcon 9's sixteenth launch and its most voluminous payload yet.
SpaceX' has done three flights in less than two months. This time, however, the company says it will not try to land the rocket on a boat, as it had done previously.
Two satellites owned by Paris-based Eutelsat Communications and Asia Broadcast Satellite, and built by Boeing, were mounted on top of the rocket.
The rocket and payload went vertical on the launch pad on Saturday, February 28. (Image: SpaceX)
Powered by ion propulsion
These all-electric satellites are not powered by chemical propellant, but by ion propulsion (ion thrusters).
Ion thrusters use beams of ions for propulsion. They are accelerated by passing them through highly-charged grids – the concept is similar to that of a vacuum tube. This type of acceleration is extremely efficient.
As these satellites do not need to carry fuel, they are much lighter.
Eutelsat Chairman and CEO, Michel de Rosen, who was at Cape Canaveral, said:
"We are delighted to see EUTELSAT 115 West B on its way into space and thank SpaceX for this successful launch. With this satellite we are trailblazing a new era of electric propulsion for orbit raising that opens opportunities for greater efficiency and higher competitivity. It's another first in Eutelsat's 30-year track record of innovation that propels our industry onto the next stage."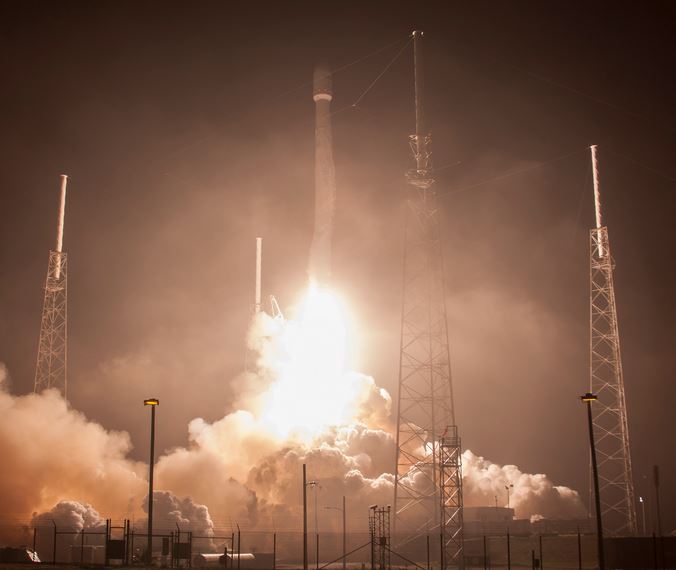 The Falcon 9's Merlin 1D engines put out 1.3 million pounds of thrust, increasing to 1.5 million pounds as it climbed out of Earth's atmosphere. (Image: SpaceX)
Satellite ABS 3A, the lighter of the two, will arrive at its destination at the end of August 2015. The Eutelsat 115 West B will take some weeks longer.
When reaching space, they are released one after the other in opposite directions, thus making sure they do not crash into each other.
Telecommunications scientists say they will remain in orbit 35,000 kilometers (22,300 miles) above Earth, and are expected to have an operational life of at least twenty years.
Patricio Northland, CEO of Eutelsat Americas, who was at the launch site, said:
"The EUTELSAT 115 West B satellite will transform the service we can offer clients delivering data services that include broadband, cellular backhaul, VSAT solutions and social connectivity. In addition to delivering high-performance C and Ku-band capacity, our footprint will extend beyond Latin American markets into Canada and Alaska. Tonight's launch reaffirms us more than ever as the satellite company of reference for the Americas."
SpaceX said its next launch is scheduled for about three weeks from now, from Cape Canaveral.
SpaceX Video – ABS/Eutelsat-1 Mission.embed-container { position: relative; padding-bottom: 56.25%; height: 0; overflow: hidden; max-width: 100%; } .embed-container iframe, .embed-container object, .embed-container embed { position: absolute; top: 0; left: 0; width: 100%; height: 100%; }