SpaceX won a $700 million contract with NASA involving five re-supply launches to the International Space Station (ISS), which brings Elon Musks' California-based rocket company's total to twenty scheduled NASA missions since its first contract with the space agency's Commercial Resupply Services (CNS) in 2008.
SpaceX and NASA signed a semi-secret deal during the Christmas holiday period. Details of the arrangement to re-supply the ISS are only now coming to light. The $700 million total is an industry estimate.
SpaceX has twice as many missions with NASA now compared to its main rival, Orbital ATK, based in Dulles, Virginia, which signed its own deal with CRS in 2008 for 10 committed flights. There is no news circulating regarding a new deal between CRS and Orbital.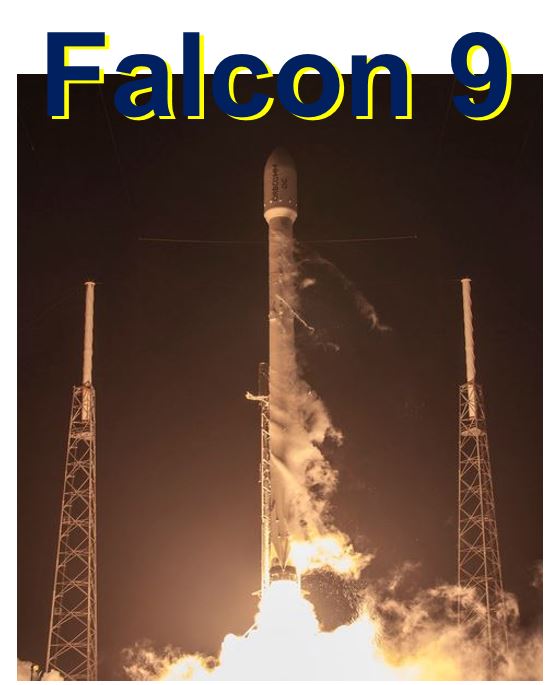 SpaceX' Falcon 9 rocket. According to SpaceX: "Falcon 9 made history in 2012 when it delivered Dragon into the correct orbit for rendezvous with the International Space Station, making SpaceX the first commercial company ever to visit the station." (Image: spacex.com)
Contract updated several times
Ever since signing with CRS in 2008, there have been so many updates to the deals that they can appear like a completely new arrangement today. Stephanie L. Schierholz, who works at NASA, told Space News that at first the deal was limited to just cargo deliveries for the ISS, but later began to include more specific terms, including how many launches would be involved.
---
---
When Space News asked NASA spokesperson Cheryl M. Warner whether competing bids were considered before updating the contract with SpaceX, this was her reply:
"We order resupply flights from our commercial providers via the contract modification process based on the mission needs to resupply the international space station."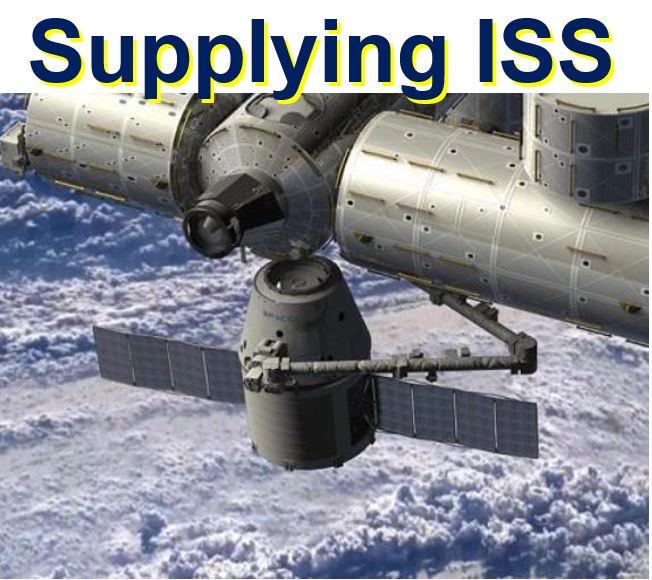 Last year the Dragon spacecraft – the top part of Falcon 9 where the cargo is transported –  spent 5 weeks at ISS. It supplied ISS and its crew with 4,300 pounds of food, supplies and equipment for experiments. (Image: uncovercalifornia.com)
Regarding the initial contracts with the two suppliers, on 23rd December, 2008, NASA wrote:
"At the time of award, NASA has ordered eight flights valued at about $1.9 billion from Orbital and 12 flights valued at about $1.6 billion from SpaceX. These fixed-price indefinite delivery, indefinite quantity contracts will begin Jan. 1, 2009, and are effective through Dec. 31, 2016. The contracts each call for the delivery of a minimum of 20 metric tons of upmass cargo to the space station."
---
---
"The contracts also call for delivery of non-standard services in support of the cargo resupply, including analysis and special tasks as the government determines are necessary. NASA has set production milestones and reviews on the contracts to monitor progress toward providing services."
"The maximum potential value of each contract is about $3.1 billion. Based on known requirements, the value of both contracts combined is projected at $3.5 billion."
Dragon container is re-usable
The contract with SpaceX involved using its Dragon cargo container, which can make round trips that bring back hardware to Earth, while Orbital's Cyngus container disintegrates when it reenters our atmosphere.
Subsequent contract revisions saw SpaceX getting eight more launches and Orbital two more.
Elon Musk and President Barack Obama at the Falcon 9 launch site in 2010. Mr. Musk founded SpaceX in 2002, with the aim of creating the technologies which would enable people to live on other planets. (Image: Wikipedia)
Satellite delivery today
SpaceX' Falcon-9 rocked is set for a launch today (25th February) after 18:46 hours, weather permitting, from Space Launch Complex 40 at Cape Canaveral Air Force Station.
It will deliver SES-9, a commercial communications satellite for SES – a worldwide satellite operator – to a Geostationary Transfer Orgit. SES has a fleet of over fifty geostationary satellites.
Regarding its payload, SpaceX wrote in a press release:
"SES-9 is the largest satellite dedicated to serving the Asia-Pacific regionfor SES. With its payload of 81 high-powered Ku-band transponder equivalents, SES-9 will be the 7th SES satellite providing unparalleled coverage to over 20 countries in the region."
"SES-9 will provide expansion and replacement capacity to serve the video, enterprise, mobility and government sectors in fast-growing markets across Northeast Asia, South Asia and Indonesia."
"The additional capacity on SES-9 will enable direct-to-home operators to broadcast more local content and increase their SD and HDTV channel line-up to 22 million households across Asia-Pacific, in markets such as India, Indonesia,and the Philippines."
While NASA is not the client in today's launch, the US space agency is likely to be monitoring Falcon-9 closely. It failed to successfully touch down on the floating 'drone' ship in three previous attempts.
Last month, a third company entered the NASA CRS scene as a supplier – Sierra Nevada Corp., based in Sparks, Nevada. The company signed new CRS-2 contracts to prepare for 2019 to the end of 2024.
Video – Dragon attaches to ISS
On May 25, 2012, SpaceX made history when the Dragon spacecraft – the container at the tip of the Falcon 9 rocket where the cargo and passengers travel – became the first privately developed vehicle in history to successfully attach to the International Space Station.