The spectacular photo 'Tadpoles Overhead' has won the inaugural Royal Society Publishing photography competition. The photograph, showing tadpoles that appear to be flying across a bright blue sky, was taken by Bert Willaert, a scientist and photographer while snorkeling in a canal in Belgium.
In its publishing blog, the Royal Society said it received more than 1,000 entries to its Royal Society Publishing photography competition, adding that it was a difficult task choosing the winner from the outstanding selection of entries.
The winning photograph, the panel decided, more than satisfied the two requirements – that the image should be both of scientific importance and interest, as well as striking.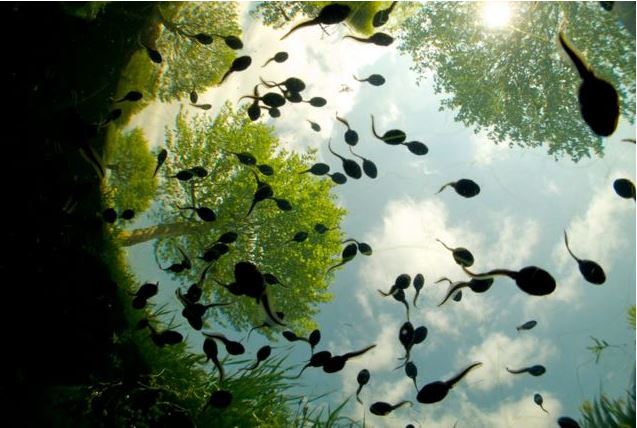 'Tadpoles Overhead', in the Ecology and Environmental Science Category, was the winning photograph. (Image: Royal Society)
According to Judge Alex Badyaev:
"The winning photo (tadpoles in the clouds) communicates the power of a common biological phenomenon visualized in a new light and from a perspective that emphasizes the other half of ecosystem; the half that we usually miss when looking down at a tadpoles' puddle, but one that is very much a part of the tadpoles' own view – the clouds, the trees and the sky."
Judging panel colleague, Claire Spottiswoode, added:
"I think this unusual image is terrific because it makes us think about the world from a tadpole's perspective (and that of a tadpole predator or parasite too). It also reminds us that fascinating ecosystems are never far away…"
Winners of remaining categories:
Evolutionary Biology Category: the winner – 'Fern Wearing a Drysuit', submitted by Ulrike Bauer, portrays the amazing water-repellent properties of the leaves of Salvinia molesta, a water fern.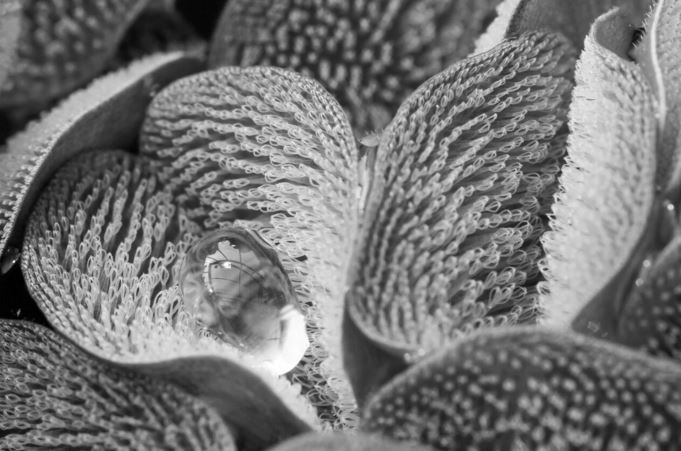 'Fern Wearing a Drysuit' came top in the Evolutionary Biology Category. (Image: Royal Society)
Judging panel member, Innes Cuthill, said he was struck by the image because "the aesthetics appeal immediately, but the biologist can also admire the adaptations for water-repellency in the intricate structures of the hairs on the fern's surface."
Behaviour Category: the winner – 'Going with the Flow: Schooling to Avoid a Predator' – submitted by Claudia Pogoreutz, demonstrates the predator-avoidance behaviour of the tropical clupeid fish and the predatory behaviour of a black tip reef shark.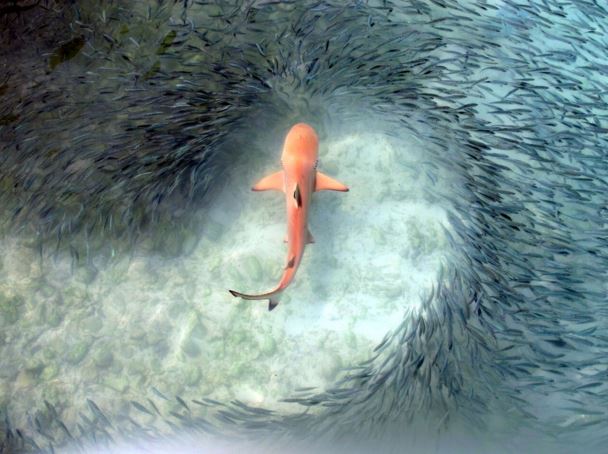 'Going with the Flow: Schooling to Avoid a Predator' won in the Behaviour Category. (Image: Royal Society)
Prof. Cuthill said of the image:
"The coordinated motion of the fleeing fish and the dynamic response of the shark are both beautifully evoked in this wonderful composition – beauty and a tingle of fear in a single image."
The competition was run as a collaboration between two of the Royal Society's research journals: Biology Letters and Royal Society B: Biological Sciences, as part of the Society's 350th anniversary of scholarly publishing.