Spencer the robot is on hand at Amsterdam's Schiphol Airport to guide lost passengers to their airport gate. Spencer, created by scientists at Örebro University in collaboration with Dutch airline KLM, considers humans to be more than mere dynamic objects, but as individuals with varying attributes, social hierarchies, social rules and social relations.
Put simply, Spencer is a state-of-the art robot programmed to understand us and how we function in our herds.
KLM, which initiated the programme, wanted to find a way of reducing the costs involved with bewildered passengers losing their flights because they lost their way in the airport.
Spencer engineers say that a fundamental aim of the project is to demonstrate that for robots among humans, social compliance and task-efficiency is not a trade-off but can go hand in hand. (Image: www.spencer.eu)
PhysOrg quoted project leader, Prof. Achim Lilienthal, as saying:
"Navigating an airport is challenging, there is a lot of glass and a constantly changing environment in terms of temporary obstructions, such as parked luggage trolleys and people everywhere."
---
---
Spencer the robot trial at Schiphol Airport
On November 30th, a trial using Spencer will begin at Schiphol Airport. Up until March next year, when European Commission representative will watch the robot's premiere run, engineers will be making the necessary adjustments to iron out any teething problems.
Spencer, with comprehensive maps of the airport downloaded, will check where he is through several sensors as well as range-finding lasers.
He will use lasers to navigate through crowded areas and not crash into objects or humans. His creators say he has no problem weaving through areas where lots of people are moving around.
However, he still needs some adjustments to be able to deal with 'temporarily permanent' objects such as parked luggage carts.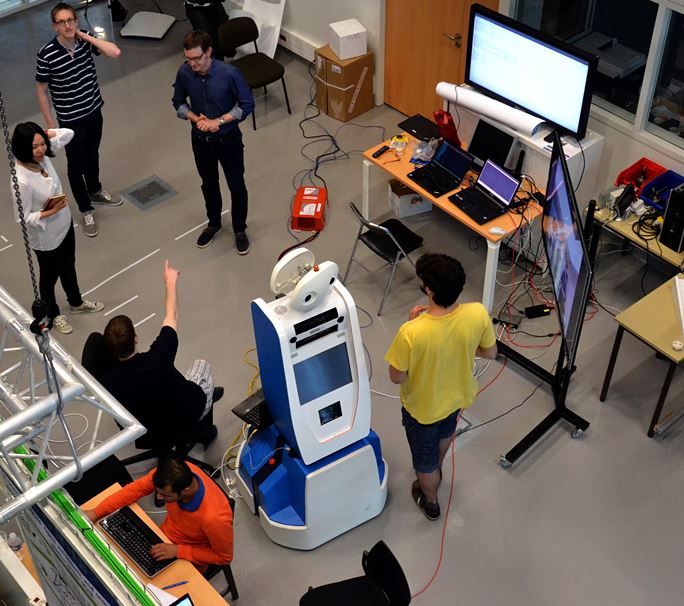 Spencer with his creators. He will pick up short-transfer time passenger groups at their arrival gate, identify them with an on-bard boarding pass reader, guide them through the airport, and take them to their departure gate. He is also equipped with KLM information to help passengers. (Image: www.spencer.eu)
Spencer understands human beings
Spencer's most amazing feature is his ability to understand how humans behave, and act accordingly. He is currently still learning what to do when he comes across different groups of humans. The engineers' aim is to make sure he chooses to walk around them rather than cut straight through.
He is also programmed to make sure groups of people (not just one individual) he is guiding stay with him and are not left behind.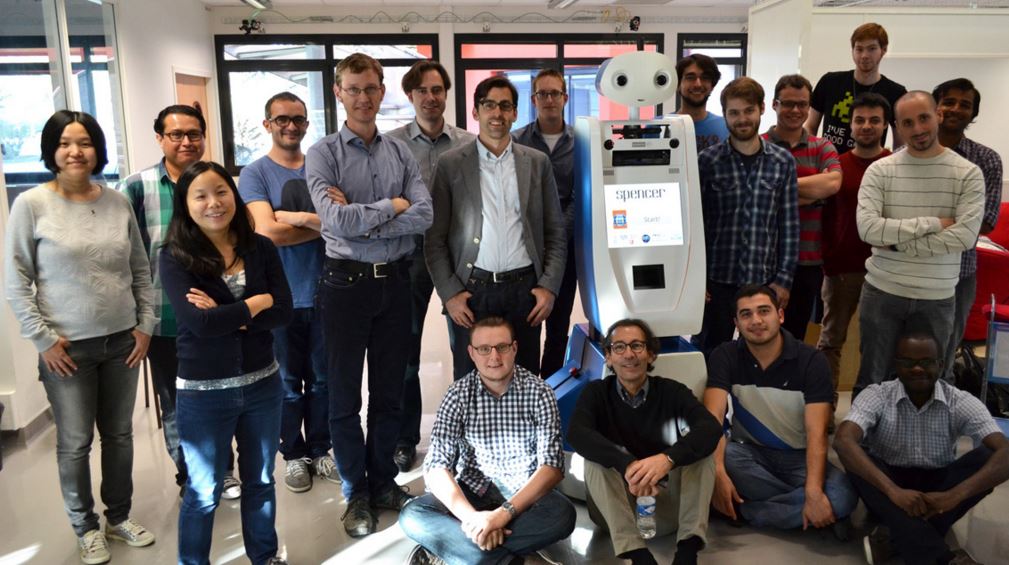 Spencer surrounded by members of the engineering team. (Image: www.spencer.eu)
Prof. Lilienthal and colleagues believe the technology used in the creation of Spencer could eventually be used to make robots interact efficiently with the inhabitants of the homes of elderly people.
According to the Spencer Project website:
"The project is also expected to have an impact on our society by laying the foundation for new studies about robots in everyday life. The resulting technologies and insights will inform the work of organizations, local governments, robot developers and researchers in cognitive systems and social science allowing them to take advantage of these new capabilities in understanding human group behaviors with relevance to such diverse social challenges as international travel, emergency response, eduation and healthcare."
Video – Single person guidance scenario with Spencer
This Spencer Channel video shows a very early prototype of the SPENCER robot guiding just one individual. The robot's task here is to guide a passenger to a pre-defined goal.