Starbucks is easing its dress code for employees, which means that purple or green haired staff as well as those wearing bright-coloured clothing will not have to wear wigs or change their clothes when they get to work.
The world's largest coffeehouse chain, with more than 23,768 locations globally, announced that – within reason – its workers will now have a wider range of fashion choices to wear under their signature green apron.
The Seattle-based company says its dress code invites baristas 'to shine as individuals' while continuing to present a neat, clean and professional appearance.
Starbucks partners (workers) will now be able to bring their own fashion preferences to the workplace. (Image: cdn-starbucks.netdna-ssl.com)
The following shirt colours – beyond solid black and white – are now welcome: brown, dark denim, navy, grey, as well as patterns. Starbucks' wardrobe also includes shorts, dresses, skirts and pants (UK: trousers), as well as dark-wash jeans.
Starbucks partners can make a statement with hair
A Starbucks barista is now allowed to 'make a statement' with hair colour. However, employees must make sure that their hair colour is permanent or semi-permanent, thus adhering to food-safety standards.
---
---
Hats, beanies, fedoras and other suitable headgear are also welcome.
Apparently, some employees have been wearing new dress code type clothes for almost a year. In September last year, customers entering a Manhattan coffee house at 47th and Broadway immediately notice something different. Instead of the familiar solid black, while and khaki clothing with green aprons on top, baristas wore a range of colours and outfits that reflected their personal preferences.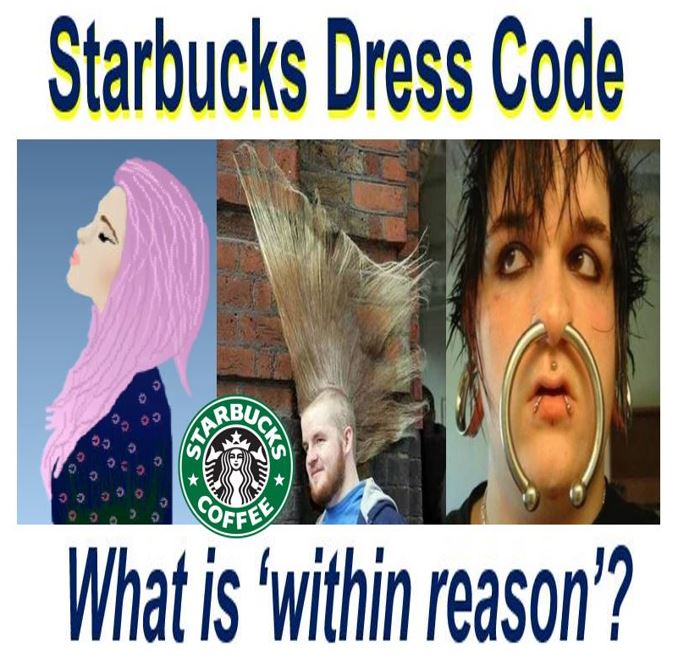 What does Starbucks mean by 'within reason' when talking about dress code and hair styles. Which of the three images above do you think the company will accept?
While being caught slightly off guard by the partners' (employees') new look, the vast majority of visitors welcomed the new style, according to Mario Leon, manager of the Starbucks store.
Mr. Leon said:
"Customers noticed right away. They actually thought that something was wrong. They would ask me, 'Why are you guys all out of uniform?' And we just told them, 'No, this is the new uniform for this store.' They said, 'We like it. We're happy to see that you can wear expressive clothing to show who you are.'"
Trials carried out at some sites
The Broadway coffee house as well as some Reserve stores in the US and Canada were used as trial sites for the new North American dress code.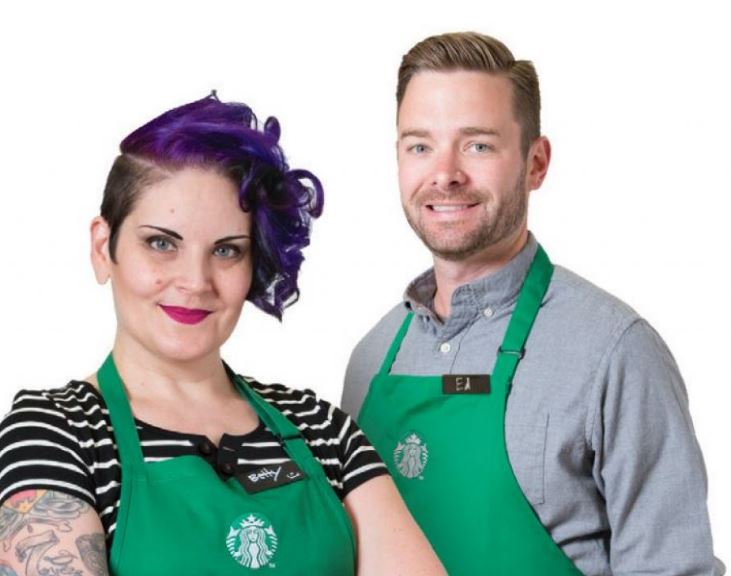 Will Starbucks' new dress code initiative spread to other companies? (Image: cdn-starbucks.netdna-ssl.com)
Mr. Leon added:
"This new dress code is what partners have in their closets," Leon added. "It just makes it so much easier. It just makes so much sense."
Cosimo LaPorta, executive vice president, U.S. Retail Store Operations, said:
"I believe these changes work well with our iconic green apron and also complement the passion partners bring to our coffee and their craft. We want partners to be as proud of their look as they are when they tie on their green apron."
Rossann Williams, president, Starbucks Canada, said:
"Our success is rooted in our continual innovation and customization in every aspect of our business and this also applies to offering the best partner experience we can. We are responding to what our partners have told us and are confident this will uplift the Starbucks brand, partner and customer experience."