The insurance bill for Storm Desmond, which caused major flooding across pasts of Lancashire, Cumbria and the Scottish borders on the 4th and 5th of December, is likely to be about £520 million, says the Association of British Insurers (ABI), in an estimate published on Friday.
Following Storm Desmond, insurers in the UK say they have helped nearly 1,500 families get into alternative accommodation, with initial emergency payments reaching £2.6 million.
Emergency payments are given in cash for affected families and businesses to be spent on immediate needs, such as clothing, food, domestic appliances, Christmas gifts, and staff salaries.
Carlisle Civic Centre surrounded by floodwater caused by Storm Desmond, December 2015. (Image: wikipedia)
Insurers pay alternative home or business accommodation costs directly.
Of the emergency payments sent to affected policyholders so far, £900,000 has gone to businesses and £1.7 million to domestic customers.
---
---
17% of claimants were business customers
A total of 23,700 claims for property damaged either by flood or storm were made by customers. Of these, slightly more than 4,000 were claims related to businesses. Additionally, 2,800 motor claims have also been received, the ABI added.
Loss adjusters – insurance agents who assess the amount of compensation that should be paid after a policyholder has claimed on his or her insurance – have made over 4,500 initial visits.
Director of General Insurance Policy at the ABI, James Dalton, said:
"Following Storm Desmond, insurers and their representatives have been there beside those affected to provide practical help and support as quickly as possible. Being flooded is hugely traumatic and insurers have worked round the clock to get the repair process under way, provide immediate payments to people affected and find families somewhere warm and dry to stay."
"The flood waters have mostly receded but for affected families and businesses the impact is going to be felt for months. Insurers and their expert teams will be there for the long haul to help communities rebuild and repair."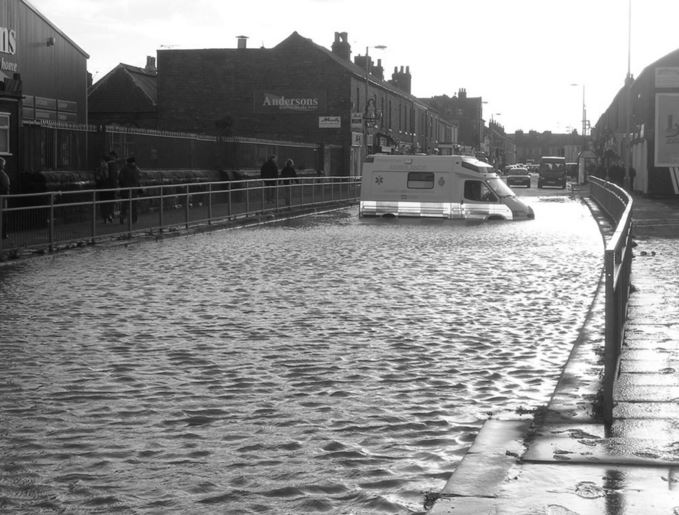 Storm Desmond brought record amounts of orographic rainfall to northern England and parts of Scotland and Ireland. (Image:cdn.knmi.nl)
The ABI says the above figures are based on aggregated data collated from its members, who represent 81% of the UK property insurance market.
The ABI has published 'Responding to Major Floods' (pdf 2MB), a guide to help customers through claiming following a flood, including the drying out and restoration process. More details can be found in ABI's Flooding section.
Beware of 'Flood Exploiters', ABI warns
Earlier this month, the ABI warned domestic and business policyholders hit by flooding to be aware of 'Flood Exploiters' – tradespeople offering to carry out quick repairs.
These repairs may not be done to a decent standard. The ABI said policyholders' insurers would arrange for repairs to be carried out by reputable tradespeople.
Beware of claims by management firms or loss assessors offering to take on an insurance claim and deal with the insurance company on the customer's behalf.
The ABI said:
"Always speak to your insurer first, understand the fees and charges of a loss assessor or claims management firm, and never be pressured into signing anything. Using one of these firms should not be necessary as insurers are dealing with flood claims as a priority."
"Loss assessors should not be confused with loss adjusters, who work for the insurance company in assessing your claim and arranging repairs."
Regarding 'Flood Exploiters', Mark Shepherd, ABI's Manager for general insurance, said:
"Sadly there will always be some people who will look to exploit people's flood misery. The top priority for home or business insurers is to help and support customers through this difficult time, so let them take charge.
"By making emergency payments, arranging temporary accommodation or trading premises, and starting the drying out and repair process as soon as possible, insurers are doing everything possible to help people recover."
Video – Flood insurance: Making a claim and protecting your home
Policy Adviser on property at the Association of British Insurers, Mark Shepherd, offers tips to home owners on preparing for flooding and what happens when making an insurance claim.