British supermarket sales declined by 0.2% for the 12-week period ending November 9th, 2014, compared to the same period in 2013, according to figures published by Kantar Worldpanel on Tuesday.
The London-based market research, insight and consultancy firm says the British grocery market has never posted a year-on-year decline since records began in 1994.
Kantar Worldpanel's head of retail and consumer insight, Fraser McKevitt, said:
"The declining grocery market will be of concern to retailers as they gear up for the key Christmas trading season."
"The fight for a bigger share of sales has ignited a price war which means an average basket of everyday goods such as milk, bread and vegetables now costs 0.4% less than it did this time last year. This is bad news for retailers, but good news for shoppers with price deflation forecast to continue well into 2015."
German discounter Aldi continues benefiting from the grocery market upheaval. Its market share has risen by 25.5% over the past 12 months, hitting a record 4.9%.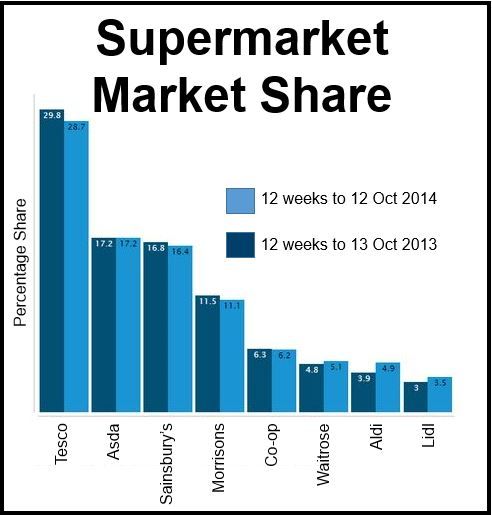 Source: Kantar Worldpanel.
German based Lidl has also had a good year, posting a 16.8% jump in sales and a current market share of 3.5%.
Waitrose, a British "challenger" supermarket chain, saw sales increase by 5.6% over the last year, bringing its market share to 5.1%.
The three smaller supermarkets have gained at the expense of the "big four" – Tesco, Asda, Sainsbury's and Morrisons.
Since the global crisis in 2008 and the Great Recession that followed, British shoppers have become extremely price conscious. Shopping trends have shifted towards the discounters and smaller convenience stores.
Asda, which belongs to US giant Wal-Mart, has suffered the least among the big four. Last week it posted declining sales but managed to hold on to its 17.2% market share.
Sainsbury's reported a 2.5% fall in sales and shrinking market share, while Morrison's posted 6.3% lower sales as well as weaker market share.
Tesco's, which is also mired in an accounting scandal, reported -3.7% lower sales as well as market share (but the decline has slowed).
Waitrose boss Mark Price warned during the weekend that there will be major supermarket closures as the grocery retail war intensifies.
Grocery deflation
Grocery prices have fallen for fourteen consecutive months. For the 12-week period ending November 9th 2014, grocery prices were -0.4% lower compared to the same period in 2013.
This means that consumers are paying less now for a representative basked of groceries than they did twelve months ago.
The grocery deflation figure is another all-time low, Kantar added (lowest since 1994), and "the impact of Aldi and Lidl and the market's competitive response, as well as deflation in some major categories including vegetables, milk and bread," the firm wrote.