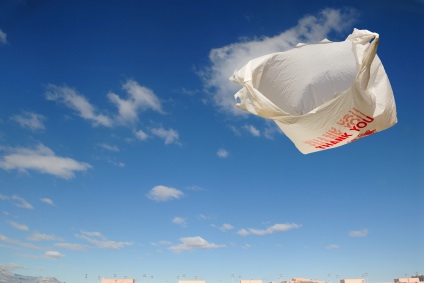 Consumers across England will soon have to pay 5p per single-use carrier bag they use at major supermarket chains.
The new government scheme is part of an effort to reduce litter and protect wildlife.
Money raised will not go to the government. The Department for Environment, Food & Rural Affairs expects the change to save £60 million in clean-up costs and over £13 million in carbon savings.
According to the new rules, stores that employ at least 250 people will have to charge for plastic bags.
This means that the Big Four (Tesco, Sainsbury's, Asda, Morrisons), as well as other large supermarkets will be charging consumers at least 5p for bags they provide for shopping or deliveries.
However, paper bags are not included and smaller stores are exempt. In addition, shoppers won't be charged for plastic bags if they are used for raw meat, raw fish, prescriptions, uncovered blades, flowers, bulbs or seeds.
Environmentalists welcomed the decision, but stressed that smaller stores should follow suit. Last year alone a total of 7.6 billion single-use bags were given out by major supermarkets in England – equivalent to about 61,000 tonnes.
Friends of the Earth's senior resources campaigner David Powell said: 'This charge will significantly reduce the billions of one-use plastic bags handed out in the UK each year – but it should apply to smaller shops too.
"More than half of people living in England and the Association of Convenience Stores are supportive of extending the scheme to all retailers.
"And in Wales, 90 per cent of businesses, both large and small, said that a 5p charge hasn't impacted on their trade."
Environment minister Rory Stewart said: 'We're all guilty of taking a carrier bag from a supermarket, storing it somewhere safe at home with the intention of using it again, then forgetting to take it with us next time we go to the shops.
"But the more bags we take, the more plastic makes its way into our environment, blighting our high streets, spoiling our enjoyment of the countryside, and damaging our wildlife and marine environments.
"Simple changes to our shopping routines, such as taking our own bags with us or using more bags for life, can make a huge difference in reducing the amount of plastic in circulation meaning we can all enjoy a cleaner, healthier country."