After Spanish oil giant Repsol S.A. confirmed it is interested in acquiring 100% of Canadian oil & gas exploration and production company Talisman Energy Inc., its share price jumped considerably on the Toronto Stock Exchange.
The Madrid-based company is keen to exploit lower valuations of North American companies exposed to US shale following the more than 40% fall in oil prices since June. Repsol said last month it had at least $10 billion available to acquire energy companies in OECD nations that offer investment returns of 7-8%.
In an official statement on Monday, Repsol said:
"As requested by the Spanish stock market regulator, Comisión Nacional del Mercado de Valores, the Company reports that, at the ordinary meeting of its Board of Directors to be held today, it will submit for consideration, among other matters, the analysis of a possible transaction consisting in the acquisition of the total share capital of the Canadian company Talisman Energy Inc."
The Financial Times estimated last week that Repsol would offer between $6 to $8 per Talisman share. If there is an offer and it is within that range, it would value the stock at a premium of up to 55% of the closing price last Friday, and value the company at $8 billion.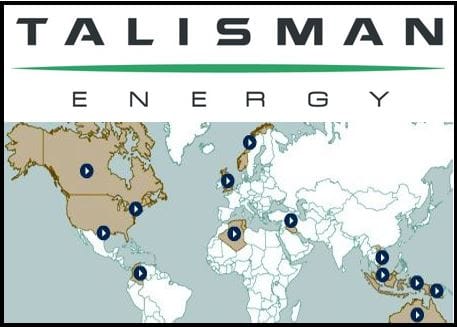 Talisman Energy, one of Canada's largest independent oil & gas companies, operates in several countries.
People familiar with Repsol's affairs say the company is eager to close a deal before the end of this year, Spanish newspapers said today.
Talisman said the following in a press release today:
"Talisman confirms that it is engaged in discussions with Repsol regarding a potential corporate transaction. Talisman has also been approached by a number of other parties regarding various transactions. There can be no assurances that these discussions will result in a transaction or on what terms. Until such time as it is appropriate to make a public announcement on a potential transaction, Talisman does not intend to make any further comment on this matter."