Tata Motors, the Mumbai-based automotive company, posted a 7.1 percent drop in consolidated net profit to Rs 3,291 crore in the second quarter ended September 30 because of higher tax provisions and a weak domestic market.
In the same year quarter last year Tata Motors posted net profit of Rs 3,542 crore.
Consolidated Profit before tax for the quarter was Rs.5,671 crores, a growth of 19.2% over Rs.4,756 crores for the corresponding quarter last year.
Tata Motors Group Financial Officer C Ramakrishnan told reporters in India that consolidated tax expenses rose to Rs 2,364 crore from Rs 1,194 crore, while finance cost came down to Rs 927.2 crore from Rs 1,112.52 crore.
Group net sales in reporting quarter increase by 8.03% to Rs 60,163.99 crore from Rs 55,686.87 crore, Ramakrishnan said.
Tata Motor's domestic car sales dropped by 32% to 73,137 vehicles in the six months of the fiscal period.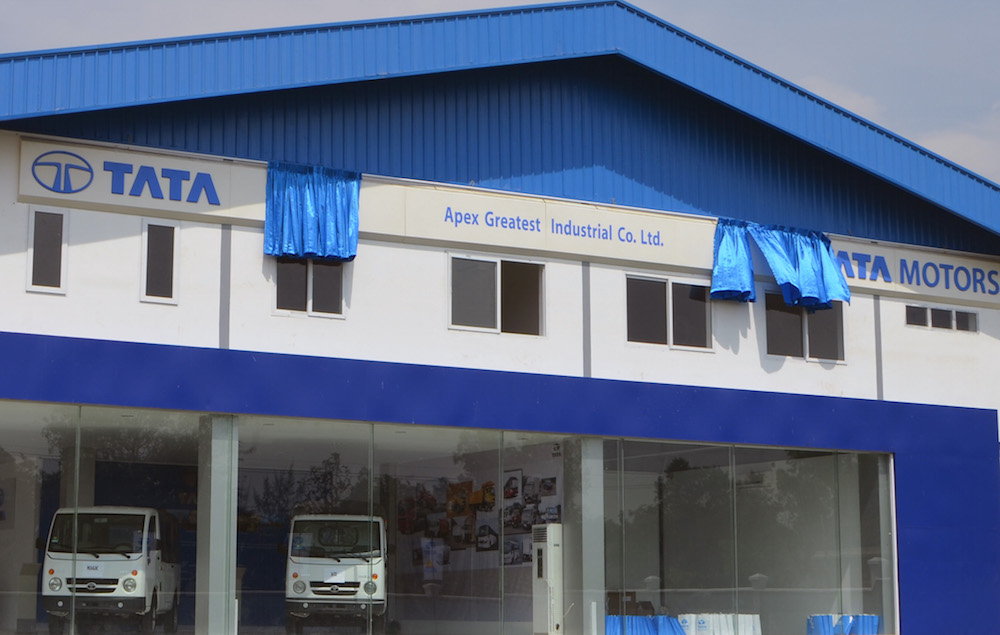 A Tata Motors Dealership in Myanmar.
"In India, some tax reversals of credits impacted net profit. This is more of an accounting provision and not tax incidence," Ramakrishnan noted.
Net revenues from Tata and other brand vehicles and financing increased by 3.89% to Rs 11,146.50 crore.
Jaguar Land Rover posts lower profit too
Jaguar Land Rover (JLR), the British luxury car manufacturer, which was acquired by Tata Motors in 2008, posted net profit that fell to £450 million in the quarter.
JLR net revenue was up 4.2 per cent to £4,808 million, driven by higher vehicle sales.