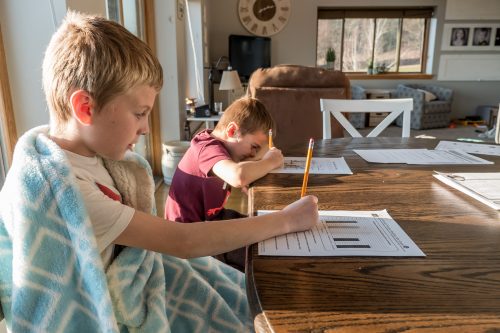 Many families find themselves in a constant battle with their own children due to the homework workload. Many families are quick to point out that the 10-minute rule considered to be a gold standard for doing homework doesn't work anymore.
There isn't much parents could do to control the volume of work children's teachers assign. However, there are many ways to manage homework stress and help little learners deal with an excessive workload. 
How Does Homework Influence Learners?
It is no secret that homework can be stressful for kids. While many adults blame video games and laziness for the stress, in reality, children today are faced with a bigger workload than we have as students.  These are some signs signalizing that your child may be stressed at school:
Slipping grades in assignments and tests

Failure to meet grade-level standards or lower report card grades

Recurrent illnesses like viruses and colds

Continuing physical complaints such as headaches or stomachaches that are not related to any medical condition.

Frustration at school and a refusal to complete assignments

Loss of interest in activities they loved, for example, in reading.
You can determine if homework is the issue by watching how your child behaves while doing it.
How to Reduce Stress at Home
There are many ways that kids can use to reduce and manage homework stress. These tips will help little learners to cope with their workload.
Create an afterschool routine
Children thrive when there is a structure to follow. It's important that your child knows what he or she will be doing after school is over. To keep your afterschool hours consistent, make a schedule based on your daily or weekly schedule.
Give your kids brain a pause after school
Many parents prefer to start homework after their children return from school. However, it's important to give them breaks after school to help children release energy and distract from the stress of the day. You can do this by allowing a half an hour to go out after you return home and doing something enjoyable. Then, you can offer them a quick warm-up with these kindergarten pdf worksheets.
Do not let your child lose sleep to do their homework
Students in middle and high school often feel so stressed that they stay up late to finish their homework. Whatever has been accomplished, make sure that your children go to bed at the same time every night, since sleep is essential for academic success and life.
Teach children self-care
Mindfulness is not just for adults. It is important that children learn how to look after their mental health. You can teach your children the skills necessary to take care of themselves. You can do anything you like, including meditation, yoga, etc.
Have a healthy snack after school
Offer your kid an apple or granola bar, yogurt, and any other healthy snack so that they get a boost of energy after classes.
Encourage good time management skills
Talk to your children about time management. Since children tend to copy their parents' habits and closely observe them, discuss the tips you use to stay organized while still getting work done on time.
Use a planner
A pocket book for kids to place their assignments in may be a good idea. For keeping your child's planner up-to-date, check it every afternoon.
Create a comfortable homework space
Is there a place where your child can do their homework? Make sure you have a designated space for homework if it's not there.
Teach children to walk away if it is too much
Teaching children to recognize when it is time to quit is very important. Talk with your child about taking breaks during homework, and returning to it later if they are feeling overwhelmed. Encourage your children to talk to their teacher if they have a difficult assignment.
Take time to relax and have fun
There's more to life than just school and work. Schedule in family activities, events, and other activities that you love.
As parents, we want our children to love learning and to enjoy school! But being stressed with homework and being overwhelmed may be one of the quickest ways for any kid to become frustrated and burnt out. Understanding the issue and how it affects kids is just a half the battle. Use these stress-busting tips above to help your children manage and beat homework overload before it begins!
---
Interesting Related Article: "Unusual Ways To Relieve Work Stress"