Philip Clarke, Tesco CEO leaves, making way for Unilever's Global President of Personal Care, Dave Lewis. The UK supermarket chain, the second largest retailer in the world measured by profit or revenue (after WalMart), warned that it would miss profit forecasts. The company said trading had been much more challenging than anticipated.
Mr. Clarke had been Tesco's CEO since 2011 and once insisted he was "not going anywhere."
Tesco PLC informed today that Mr. Lewis will join the Board on October 1, 2014, as CEO in succession to Mr. Clarke. Mr. Clarke will continue in his current position until that date "when he will step down from the Board but will continue to be available to support the transition until the end of January 2015."
Lower sales and trading profit warning
The Hertfordshire, England-based company said the overall market is weaker, and together with growing investments it had made to improve the customer offer and to build up long-term loyalty, sales and trading profit for H1 2014 will be "somewhat below expectations."
The outlook for the 2014 full year will depend mainly on whether the benefits from the investments start to pay off, as well as conditions in the overall market, and "by any steps that may be taken during the remainder of the year to improve our customer offer further," Tesco wrote today.
Tesco Chairman, Sir Richard Broadbent said Mr. Clarke agreed with the Board that now is the right time to hand over to a new leader with a new profile and fresh perspectives, after having guided the company through a substantial re-positioning in challenging markets.
Sir Richard said:
"Philip has done a huge amount to set a clear direction and re-position Tesco to meet the rapid changes taking place in the retail market. He has achieved a great deal across all areas of the business in the face of considerable pressures. The Board are deeply grateful to Philip for his contribution to Tesco, over the last four decades, as well as more recently as Chief Executive. His has been an outstanding achievement."
"Dave Lewis brings a wealth of international consumer experience and expertise in change management, business strategy, brand management and customer development. He is already known to many people inside Tesco having worked with the business over many years in his roles at Unilever. The Board believes that with Dave's leadership Tesco will sustain and improve its leading position in the retail market."
Mr. Clarke said he thought now was the appropriate time to hand over responsibility, and expressed delight that Mr. Lewis agreed to join Tesco.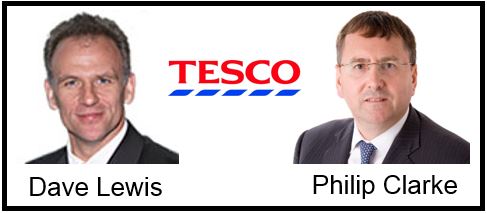 Mr. Lewis takes over on October 1st.
Mr. Lewis' and Mr. Clarke's remunerations
As from October 1, Mr. Lewis will receive a basic salary of £1.25 million ($2.13 million) plus standard benefits commensurate with the CEO position. He will receive £525,000 ($896,424) in lieu of his 2014 Unilever cash bonus. He will also receive restricted Tesco PLC awards equivalent in value in lieu of his deferred Unilever share awards.
Mr. Clarke will continue receiving his current salary plus benefits during the six-month transitional period. When he leaves he will receive "a sum equivalent to his contractual entitlement based on 12 months' salary in lieu of notice."
About Dave Lewis
Dave Lewis joined Unilever in 1987 after earning a BA (Hons) in Business Studies at the Trent Business School in Nottingham (he also holds an Advanced Management Programme from the Harvard University).
During the last 27 years, he has worked in several different roles within Unilever, both at home and abroad in the Americas, Asia and Europe.
His last three roles at Unilever were:
Global President, Personal Care (current position),
President for the Americas,
Chairman for Unilever UK.
Mr. Lewis is a Non-Executive Director of British Sky Broadcasting Group PLC.
Tesco Q1 2014 sales down
Earlier this year, Tesco posted its third consecutive fall in quarterly sales. Increased fierce competition among UK supermarkets has affected several chains across the country. Tesco sales were down 3.7% in the UK while profits declined by 6%.
There was talk in April among Tesco executives about the sharpest falls in sales in twenty years.
The UK's major supermarket chains, Sainsbury's, Morrisons and Tesco have all lost market share during the last twelve months. Tesco's market share stands at 29% compared to 30.5% last year.
German discounter Aldi and Lidl are attracting shoppers at record numbers.