Sales of the world's second largest retailer Tesco are falling faster than any other UK supermarket chain, while German discounters Lidl and Aldi and British Waitrose gain market share, says research firm Kantar Worldpanel.
Over a 12-week period ending October 12th, Tesco posted a 3.6% sales decline. Its market share is now 28.8% compared to 30.1% one year ago.
Analysts say Tesco needs a multi-billion pound investment to turn around its performance in the UK. Prices need to be cut by 5% to 6% and the quality of its products must improve, they add.
Kantar also reports that for the 12-week period ending October 12th, grocery like-for-like prices have fallen by 0.2%, meaning supermarkets are bitterly fighting for customers in a deflationary business climate.
Head of retail and consumer insight at Kantar Worldpanel, Fraser McKevitt, said:
"While the supermarkets are battling it out on price, the real winners are consumers. Extensive price cutting by some supermarkets in a bid to win the price war means that customers are saving on everyday items such as vegetables and milk."
"While price is a key battle ground among the big four, at the top end of the market Waitrose secured a record grocery market share of 5.2%. Impressively, it has boosted its sales by 6.8% over the past year, continuously growing its sales every month since March 2009."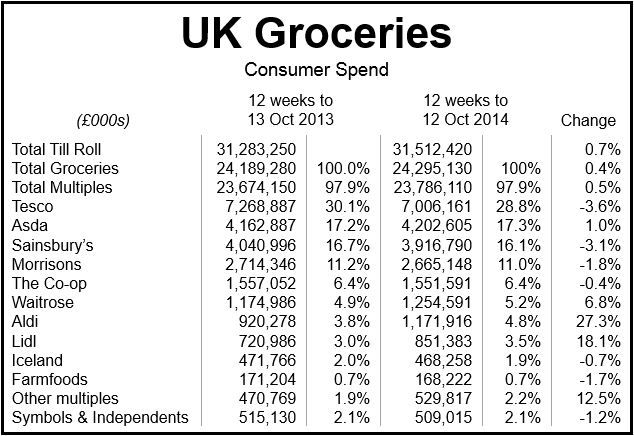 (Data Source: Kantar Worldpanel)
Aldi's growth has slowed down compared to previous months, but sales were still twenty-seven percent higher than during the same 12-week period in 2013, while Lidl's increased by 18%. Aldi's and Lidls share of the UK grocery market now stand at 4.8% and 3.5% respectively.
Mr. McKevitt concluded:
"We are seeing clear polarisation of the market with both the premium and discount ends of the market gaining share, while the mainstream grocers continue to be squeezed in the middle. Asda has again emerged as the winner among the big four, growing sales ahead of the market, up 1% over the past year, boosting its share to 17.3%."
"Tesco is yet to see substantial improvement, however it seems it may be turning a corner as sales are down 3.6%, which is the grocer's best figure posted since June. Meanwhile both Sainsbury's and Morrison's sales slipped back, down 3.1% and 1.8% respectively."
Grocery prices have fallen for the thirteenth consecutive 12-week period. Shoppers today are paying out less for a representative basket of groceries than they did one year ago.