Tesco reported a 3.5% increase in UK and Irish sales in the first quarter of the year.
Group sales, which also includes Asia and eastern Europe, rose 1.8%, up from 1.0% growth a year earlier, marking the tenth consecutive quarter of positive like-for-like sales growth for the group.
Same-store sales growth for Tesco's UK unit slowed to 2.1% in the quarter compared to 2.3% growth the previous year because of severely bad weather conditions in March.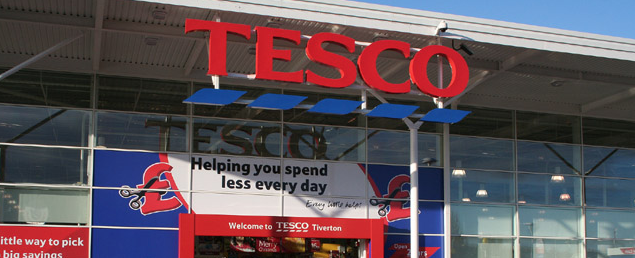 "Performance improved through the quarter (after taking the timing of Easter into account), recovering from the impact of adverse weather conditions experienced in March," Tesco said in its quarterly report.
Sales in the quarter were also boosted by Booker, the wholesaler and distributer Tesco recently acquired for 3.7 billion pounds. Booker reported like-for-like sales growth of 14.3% under Tesco's ownership.
Tesco Bank sales rose by 7.0% in the quarter. The company said that secured lending is becoming an "increasingly significant part of the portfolio."
The retailer added that it is on track to delivering its medium term financial targets.
"Our growth plans are on track and we are pleased with the momentum in the business. We remain well-placed to serve our customers better and deliver on our medium-term financial ambitions. We are delighted with initial progress on Booker, and are focused on delivering the synergy benefits that our merger brings," said Tesco chief executive Dave Lewis.
The quarterly results were better than expected, especially as the retailer faces pressure to cut prices in response to competition from discount retailers.