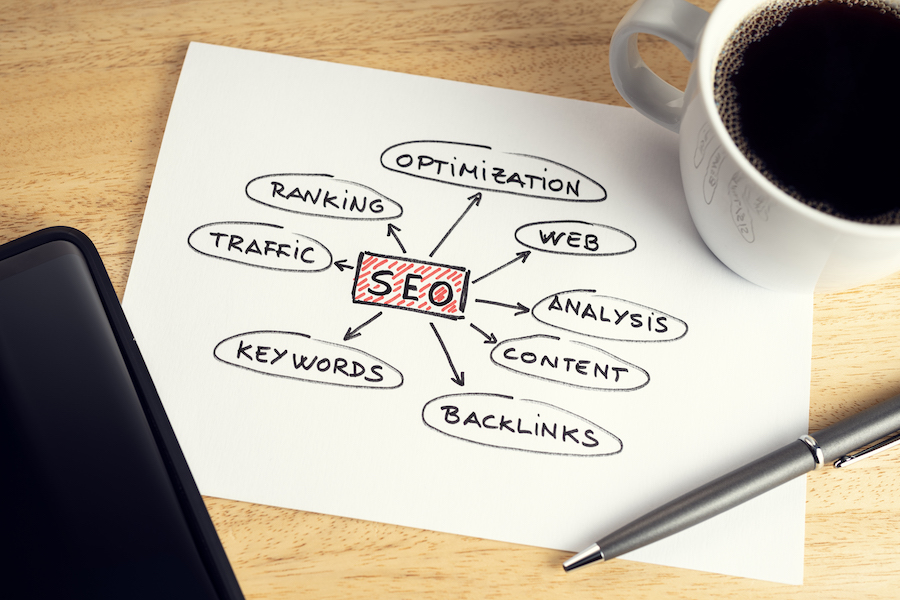 You will likely have at least heard of the phrase SEO, even if you are not sure what it is or how to apply it. Every business these days must have a website to stay competitive, and a thriving online presence will take you forward. This article will explain the concept of SEO and highlight some standard techniques to help your business stay relevant and competitive. 
What is SEO?
SEO is a term used in online marketing. It is short for Search Engine Optimisation, and its purpose is to bring your website or business onto the front page of Google, as high as possible, and therefore drive traffic/customers (however you want to phrase it) to your company. Most people searching online for an answer won't look beyond the first page of search results; if they have to, they will usually rephrase what they're looking for first. So to make sure you get the most exposure possible, you need to try and get your website as high on the first page of the results as possible. Competition is high, and this won't happen without some effort, hence SEO. 
SEO Techniques
Before we look into some of the SEO techniques around, remember that there are professionals who dedicate their careers to SEO marketing. This is because it's a difficult concept to get right. Everything has to be subtle enough not to annoy customers or flag up as inappropriate to search engine bots but clear enough that it will get you desired results. There's no shame in wanting to hand over a difficult job to people trained to do it. Using a company like SEO Luton would get you results without retraining yourself. 
The primary purpose of SEO is to make your website easy for a search engine bot to understand, to make your website look active, and to portray your website as an expert in your field. 
Keywords – these are search terms entered by a web user. If your company sells sunglasses, you want to make sure you rank highly for searches involving sunglasses. You will need to do an audit to see where you are at the moment and how to get there. Looking at competitors will show which keywords they rank highly for, and you can decide if you want to compete or stand out differently. This is part of the subtly mentioned earlier – you need your content to contain these words, but if you put too many in your content will be difficult to read and rejected by search bots. 
Links – Backlinks are links on another website that directs traffic back to your own. This networking appeals to search bots and puts you at an expert level. You should also regularly ensure that all links work on your site, as the bots frown on broken links. You can also search for broken backlinks for your competitors, contact the publishing site and suggest they put your link in its place. Being connected to the rest of the web will make you more appealing to the search bots. 
Content – The content you provide needs to be regularly updated and added to. This will make your website seem more active online. Many companies start blogs to cope with this, particularly if you have a stocklist that doesn't change often. Your content should be engaging for a reader, position you as an authority, and answer questions or solve your readers' problems. 
---
Interesting Related Article: "Use SEO to Get More Traffic to Your Business Website"