An old video recording with poor lighting will look dark, blurry, and uninteresting. That's why you need the best AI video enhancer to improve the quality of your home videos. The AI-powered video editing software is a great tool for anyone looking to enhance their old or new videos. However, not all video enhancers are made equal. Some have more features than others, which makes it harder to find the best AI video enhancer for your needs. So if you're ready to take your old videos and photos from ordinary to extraordinary, keep reading to learn about the best AI-powered video enhancer to turn old video into crispy 4K.
Part 1: How Does a Video Enhancer Work?
Video editing software uses a computer program to enhance your video. It is designed with the help of algorithms, which are sets of rules that computers follow to solve problems. The program uses its algorithms to remove unwanted sounds, add background music, and edit brightness, contrast, and saturability. Video editing software makes it easy to add custom transitions between scenes, add text, and add special effects to your videos.
Video enhancers work by taking your videos and photos and enhancing their look, sound, and overall experience. You can enhance a wide range of video types including 8K and 4K video, 360-degree video, and even old video recordings with poor lighting. To do so, video enhancers use image recognition technology with artificial intelligence to analyze the video and make adjustments accordingly.
Part 2: Best AI Video Enhancer – AVCLabs Video Enhancer AI
If you're looking to upscale your old videos to 4K with an AI-powered video enhancer, you'll want to make sure it has all the key features listed below. AI video editors are great tools for anyone who wants to enhance their video content but doesn't have a ton of video editing experience. Using an AI video editor allows you to get professional-quality video editing results without having to spend thousands of dollars on expensive video-editing software. Some AI video editors even have drag-and-drop interfaces that let you simply drop your video into the program, click a few buttons, and have a professionally edited video that you can share with your friends and family. An AI video enhancer will use computer algorithms to analyze your video and make adjustments to brightness, contrast, and saturability. This makes it easier to correct any issues with your video so it looks polished and professional. An AI video enhancer typically works with a wide range of video file types and can even be used to enhance old video recordings with poor lighting.
AVCLabs Video Enhancer AI is exactly one such video enhancement software that is cheaper than other video editors and can meet all your needs. It offers some AI models for users to choose so as to enhance the video automatically, and its interface is simple and user-friendly.
Feature Lists & Model Settings:
AI Upscale
AVCLabs Video Enhancer AI uses deep learning to improve the quality of low-resolution videos. It has excellent effects on very old SD footage. This technique can be used to improve the resolution of an old video by up to 4K. Besides, AI Upscale can also be used to remove artifacts from videos, such as noise and compression artifacts. To use AI Upscale, simply select the video you want to enhance and specify the desired output resolution. The AI Upscale algorithm will then analyze the video and create a higher-resolution version of the video.
AI Face Blur
AI Face Blur is done in order to protect the privacy of individuals and to prevent identification. It works by detecting the edges of human faces in videos and then blurring them. This algorithm is said to be very effective in preventing identification.
Denoise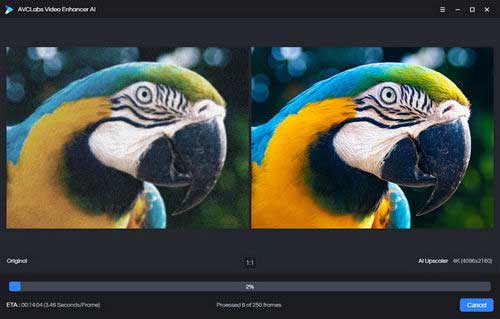 The basic idea of it is to use AI algorithms to remove the noise from digital videos, resulting in a cleaner and clearer final product.
Face Refinement
Using AI to create a more refined and realistic version of a person's face. This can be done by taking into account a variety of factors, such as the person's age, gender, race, and facial features. By taking these factors into account, it is possible to create a more accurate and lifelike version of the person's face.
Part 3: Turn Old Video into Crispy 4K with AI
If you're looking for a way to take your old, low-quality videos and turn them into crisp, high-definition 4K quality footage, then AVCLabs Video Enhancer AI is the perfect solution. This powerful video enhancement software uses artificial intelligence to upscales videos to four times their original resolution. It also comes with a host of other features, including denoising, face blur, face refinement, cropping and deinterlacing. Besides, you can adjust brightness, contrast and saturability in the product. If you're looking to give your old videos new life, AVCLabs Video Enhancer AI is the best solution.
Here introduces how to turn old video into crispy 4K with several clicks:
Step 1: Run the program and add an old video.
You can drag and drop the video file to the square area to open the video in the program. Also, you can click the Browse button or click File–Open to add an old video.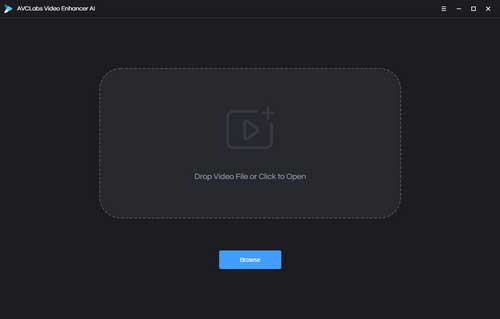 Step 2: Choose an AI Model and the resolution.
After loading the video files, you could view setting options on the right panel. Click AI Upscaler in Feature Lists and choose 4K (4096×2016) in Video Size.
Note: Video resolution affects video size, higher resolutions are not always a better choice, so you can consider your end deliverable when choosing a resolution.
Step 3: Start the enhancement with AI.
After simple settings, click Start Processing. The program will start to change an old and low-resolution video to 4K. On the processing interface, you can preview the original and processed video, progress bar, processing time and the use of GPU.
After the processing progress is completed, you can go to the output folder to check the upscaled 4K video. With this AI-based video enhancer, you can get better video quality while upscaling the video resolution to a higher one.
Conclusion
AVCLabs Video Enhancer AI is a great tool for anyone who wants to turn their old video recordings into 4K. It is easy to use, has a user-friendly interface, and advanced editing tools that let you quickly adjust video brightness, contrast, and saturability. What's more, it is cost less than other video editing tools. If you're looking for a cost-effective AI video enhancer, AVCLabs Video Enhancer AI is a great choice.
---
Interesting Related Article: "4 Methods to Compress Videos without Losing Quality"