Why did Wall Street suffer its sharpest one-day loss in two months on Thursday? Investors and analysts say they are bewildered. Could it have been Apple's 3.8% fall, the ongoing economic sanctions against Russia, airstrikes in Syria, the Eurozone slowdown, lacklustre Chinese GDP growth, the US Fed's tightening, did the Alibaba and Citizens IPOs gobble up all the spare cash that was sloshing around, or was it due to poor US August durable goods orders?
On Thursday, the S&P index fell by -1.6%, the Dow Jones Industrial Average by -1.5%, and the Nasdaq Composite by -1.9%. Since July, there has been no steep market rise that was ripe an adjustment.
Experts, who have spent the last 15 hours scratching their heads and pouring over data, have mostly concluded "We haven't got a clue."
The geopolitical risks have been around for a while and markets have been taking them in their stride. The durable goods data was more or less in line with expectations – orders fell by -18.2% in August compared to estimates averaging -17.3%, and Apple is just one company.
As often happens when experts do not know, rumors started to emerge. The first one to creep into some media outlets was that a major seller had decided to pare down, resulting in a rolling snowball effect. Some suggested that the Rosh Hashanah (Jewish New Year) holiday may have left markets exposed to volatility.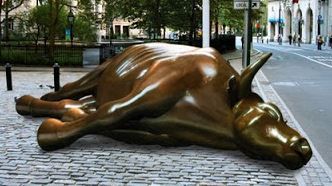 The Bull lay down and went to sleep on Thursday.
According to CBS News, Art Cashin, a trader, even suggested that the astrological charts had been predicting a "week of surprises".
Maybe it does not always take one major piece of news to affect markets. If you add them up, there are several small news items, which together have the effect of making traders feel more cautious.
If the "deaths-by-1000-cuts" theory is right, we now have one more piece of bad news – 'markets fell mysteriously on Thursday.' So what will happen next?
Asian stocks
On Friday, Asian stocks followed Wall Street downward. There was concern about a Russian announcement that it may seize foreign assets in its territory in response to US/EU and other allies who tightened economic sanctions.
Shares in China rose marginally, with agricultural companies and firms associated with nuclear power production gaining strongly. The Shanghai Composite Index increased by 0.11% to 2,347.72, a 6-month high. However, share prices in Hong Kong fell by -0.38%, with investors expressing concern about China's economy.
European stocks
Markets across Europe remain under pressure, with most investors spooked by Wall Street's sell-off overnight, slowing growth in China, and the US Fed's tightening of interest rates.
London equity markets have been declining ever since US authorities announced steps earlier this week to stop their companies from buying foreign firms so that they could move their headquarters abroad to escape America's high corporate tax rate. Shares in British pharmaceutical companies have taken a beating all week.
In Germany, business confidence has plummeted for several reasons, including the increased sanctions against Russia. Germany does more business with Russia than any other country in the world. German GDP shrank in the second quarter, while the Eurozone's flatined.