Tiffany, the US multinational luxury jewelry and specialty retailer, posted lower than expected third quarter sales on Tuesday, but it was still strong enough to fuel its stock value.
Despite third quarter financial results that did not live up to Wall Street expectations, the company's stock surged by 2.5%, closing at $107.60. Over the past year Tiffany has experienced a 30% rise in its stock rise.
In its third quarter Tiffany, sales in the Americas increased by 10% to $459 million. In Europe, total sales rose 9% to $114 million. Total Asia-Pacific sales rose 2% to $243 million.
However weaker economic conditions in Japan and a lack of demand resulted in Japanese sales dropping by 12% down to $113 million.
Net sales worldwide rose by 8% to $2.96 billion. Net income dropped by 60% to $38 million compared to the same period last year.
Adjusted earnings per share was shy of expectations at 76 percent per share, with analysts predicting 78 cents per share.
Revenue increased by 5.2% to $959.6 million, which was also below expectations of $970.2 million.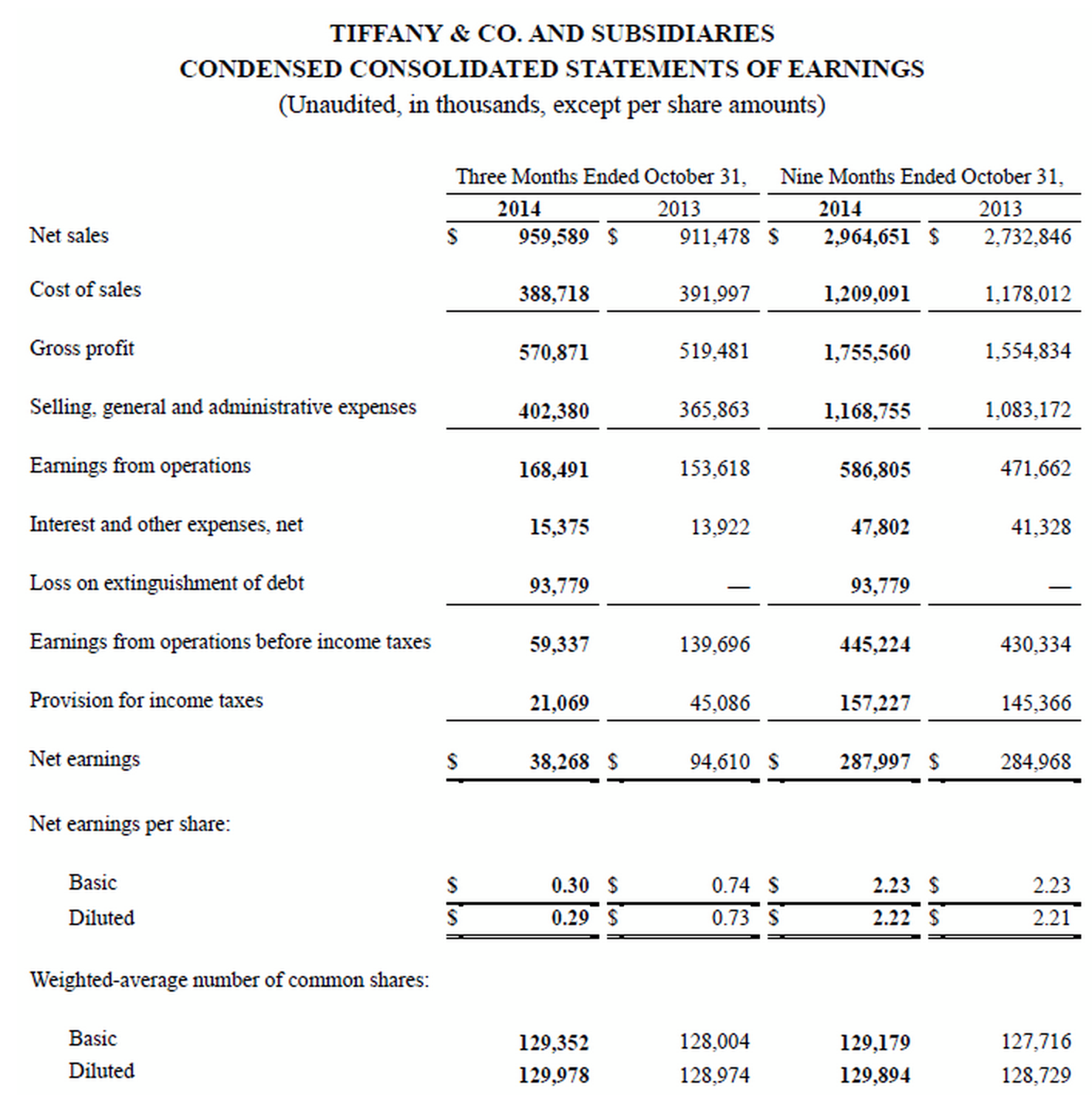 Source: "Tiffany & Co."
CEO and Chairman Michael Kowalski in a statement:
"We were pleased with overall sales performance, especially in light of economic and geopolitical challenges around the world,"
Adding:
"We continue to pursue exciting opportunities in marketing, merchandising and store expansion to support longer-term growth."
Kowalski said that he was "especially encouraged with initial results from the recent launch of our TIFFANY T jewelry collection."
For the fiscal year ending January 31, 2015, Tiffany is maintaining its previous guidance that calls for net earnings in a range of $4.20-$4.30 per diluted share.