Stunt Drive UK instructor Alastair Moffatt claims the Guinness World Record for the Tightest Parallel Park by managing to slide into a spot only 7.5cm (2.95 inches) longer than his FIAT 500C 1.2 Cult.
Master Instructor Mr. Moffatt's previous Tightest Parallel Park had been into a space 8.6cm longer than his vehicle. Chinese stunt driver Han Yue, who later beat this with a tiny 8cm, was knocked into number 2 spot by Mr. Moffatt on Friday during the Performance Car Show at the 2015 Autosport International Racing Car Show, Birmingham, England.
Mr. Moffatt also holds the records for Tightest Double Parallel Park and Tightest Triple Parallel Park.
The new champion was able to execute the amazing manoeuvre by sliding his vehicle between a FIAT 500C Colour Therapy TwinAir 85hp and a FIAT 500S TwinAir 105hp, with just 7.5cm (2.95 inches) to spare.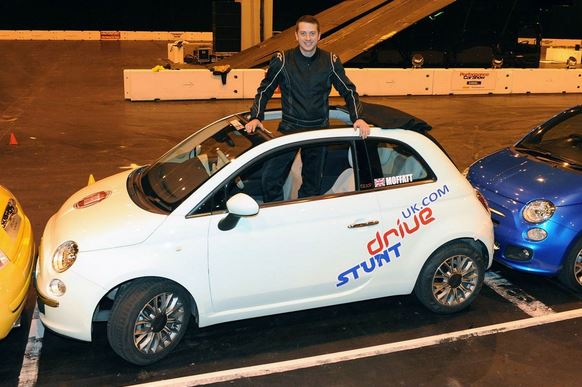 Mr. Moffatt slid his car into the tiny space without touching the other two vehicles.
Mr. Moffatt said, regarding his achievement:
"It's wonderful to have my record back! With the gap getting ever smaller, finding the right vehicle is increasingly important, so the light weight, agility, dimensions and parking-friendly shape of the FIAT 500 makes it perfect to getting into even the tightest parking spots."
Kate McLaren for FIAT UK said:
"We're delighted that Alastair chose the FIAT 500 to reclaim his parking crown and we congratulate him on his remarkable achievement! Obviously, we don't recommend that people attempt such amazing manoeuvres in public, but it's good to know just how manoeuvrable a FIAT 500 really is in the hands of a trained professional."
Stunt Drive UK claims to be the country's leading provider of car-based stunt driving experience days. It has four venues across England and Wales. You can learn to perform stunts from the movies such as Driving a Car on Two Wheels, J Turns, and High-Speed Parallel Parking.
Mr. Moffatt's new record remains provisional until officially confirmed by Guinness World Records.
Video – Tightest Parallel Park Record
Alastair Moffatt slides the Fiat 500 into a New Guinness World Record.