Around 350 Tim Hortons employees lost their jobs this week because of a new job cutting round at the company's regional offices and headquarters.
According to The Canadian Press, a spokeswomen said on Thursday that all of the employees that laid off have been notified and that the layoffs were within commitments made by to Industry Canada.
Around 15 percent of the 2,300 employees will be affected because of the reduction, which focused on its corporate headquarters, in addition to distribution centres and regional offices across Canada.
Last year Tim Hortons merged with Burger King under Restaurant Brands International and it was widely expected that under new ownership many employees at Tim Hortons would be laid off.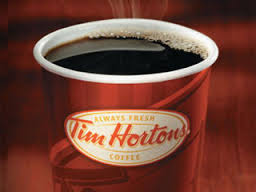 Ottawa approved the merger under the condition that the company does not lay off off more than 20 per cent of employees, according to Industry Canada representative Jake Enwright.
The company will keep its corporate headquarters in Oakville, Ontario. Restaurant Brands pledged to maintain staff levels at Tim Hortons franchised restaurant for five years.
The company declined to provide official until after the reorganization was complete, but corporate employees have already started to receive pink slips.
"There are very difficult and necessary choices," company spokeswoman Alexandra Cygal said Thursday.
The company has distribution centres in Calgary; Guelph and Kingston, Ont.; Debert, N.S.; and Aldergrove, B.C.
Some analysts and franchisees have expressed their concerns about the Tim Hortons and Burger King merger, especially because of the reputation of the Brazilian Investment firm, 3G Capital, that owns around 70 per cent of the merged company.
3G has a reputation of stripping assets of the companies it acquires to boost profits and laying off employees when it takes over – as it did when it took over operations of Heinz and beer company Anheuser-Busch.