Those who frequent Tim Hortons across Canada can expect to face higher prices next week.
The fast casual restaurant is going to be raising the price for its coffee by 10 cents, on average, across all chains in Canada next Wednesday. The exact price increase will vary by region, according to a Tim Hortons spokeswoman.
The company is also increasing the cost of its breakfast sandwiches (like the bacon and egg on an English muffin and the turkey sausage sandwich) by 10 cents, to $2.99 before tax. This increase will occur in all provinces except Ontario.
Tim Hortons is increasing prices because it is facing much higher operating costs, driven by an increase in the price of coffee beans and meat.
Spokeswoman Michelle Robichaud said:
"We have been able to hold our pricing stable since spring of 2011, however due to rising operational costs there will be a moderate increase,"
The company's chief financial officer, Cynthia Devine, hinted earlier this month that the company could raise prices as contracts for Arabica coffee nearly doubled this year due to various factors, including the lack of rain in Brazil.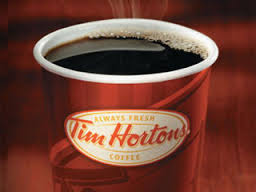 Tim Hortons enters into long-term contracts with coffee suppliers, giving it protection from market fluctuations and a level of flexibility.
Most of the deals that the company made with coffee suppliers were negotiated over a year ago, allowing the company to ride one of the most volatile periods for coffee prices.
Other restaurants have already increased their coffee prices, including Starbucks, which raised prices over the summer.