British astronaut Major Tim Peake has asked kids for help in a space gardening experiment called 'Rocket Science'. He is holding 2kg of rockets seeds in the weightless environment of the International Space Station (ISS). In a couple of months they will be sent to Earth. He'd like schoolchildren across the UK to plant them and let him know what happened.
The aim is to compare how space seeds and Earth seeds perform both on Earth and in space after they are planted.
Major Peake has highlighted details of his project in a message from ISS, which will be delivered to schools in the United Kingdom.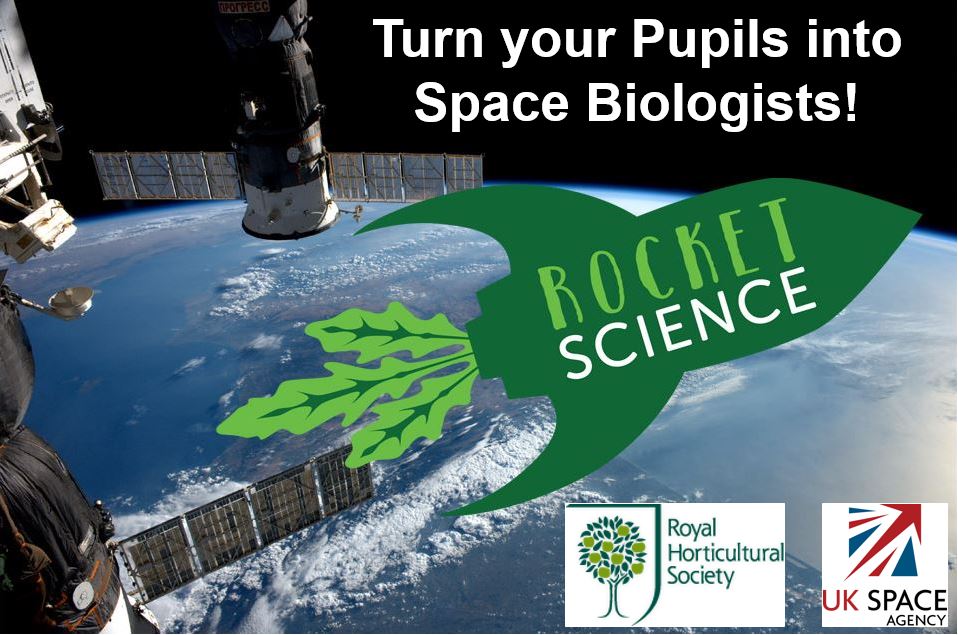 The Royal Horticultural Society and the UK Space Agency have teamed up and invited schools to participate in the Rocket Science experiment and turn their pupils into space biologists! (Image: schoolgardening.rhs.org.uk)
The study forms part of a series of experiments that are looking for ways to successfully grow food for human astronauts on long space missions, such as the one planned for Mars.
Schoolchildren become space biologists
The mission – called Rocket Science – allows up to 500,000 schoolchildren to become space biologists by growing seeds that have been in space.
---
---
Two kilograms of rockets seeds were flown to ISS in September last year and will orbit Earth until March 2016.
In April, up to ten thousand schools will grow the space seeds in a nationwide experiment.
The Royal Horticultural Society, together with the UK Space Agency, will send out a teaching pack to the schools that want to participate in the experiment.
The packs contain two packets of seeds: 1. Seeds from space. 2. Seeds that remained on Earth. They also include a booklet outlining the experiments, stickers, a poster to record results, and more.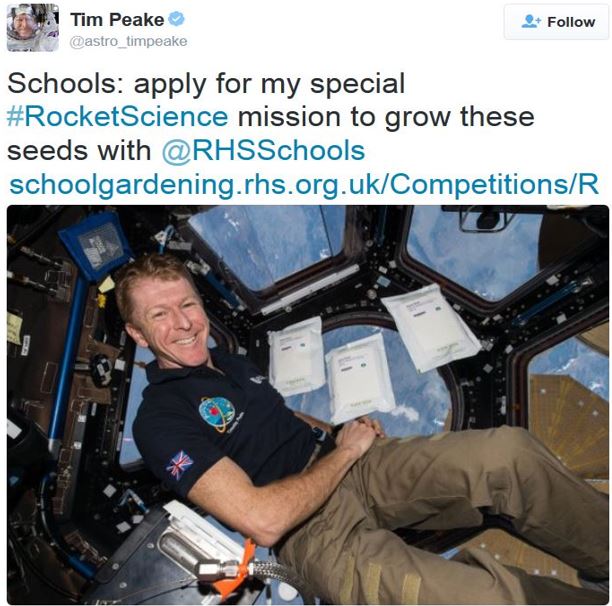 Tim Peake senda out a request to children and schools across the UK, asking them to help him in his Rocket Science, space gardening experiment. (Image: twitter.com/astro_timpeake)
If you are a pupil in a school, a teacher or a member of staff and would like it to be part of the mission, please visit the Application Page in the Royal Horticultural Society website.
The Royal Horticultural Society says:
"If you are a UK school or educational organisation for young people (e.g. community groups, school clubs, scouts/brownie groups) you can apply to receive a Rocket Science teaching resource pack containing the seeds and take part in this exciting nationwide science experiment."
"The contents of the Rocket Science teaching resource packs are suitable for all ages. Additional resources for Primary and Secondary ages pupils will be made available online and will be free to download."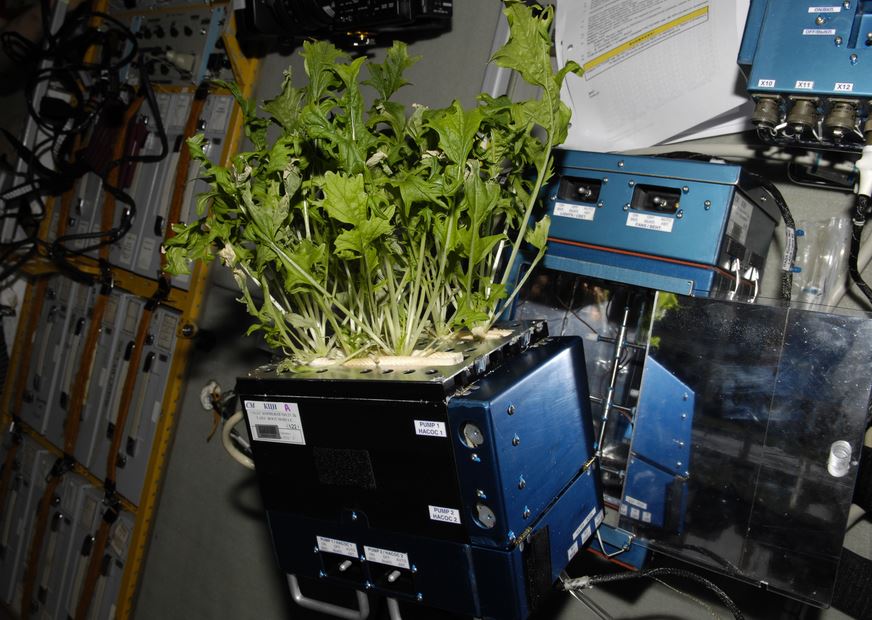 This is a picture of a Mizuna lettuce that was growing aboard the International Space Station before it was harvested and frozen for return to Earth. Did you know that crew members aboard ISS have been growing plants and vegetables for years in their 'space garden'? (Image: nasa.gov)
Important
The UK Space Agency and the Royal Horticultural Society ask readers to please note the following:
– Only applicants at a British school or educational organization for young people will be considered.
– The nationwide experiment is open for pupils aged from 4 to 18 years. They must be attending school or an educational/youth group.
– A school or group may only apply once.
– These packs are extremely valuable. The organisers ask applicants to be sure they are fully committed to running the experiment.
– In this large-scale experiment, participants must start in April 2016 and follow the experiment protocol as closely as possible. You can get more details on the protocol here.
– The experiment will last 35 days (overall). Participants will be required to measure and observe the seedlings regularly during this period. "Please ensure you will able to meet these requirements by checking the experiment overview."
– Each pack contains 100 seeds. Please consider this when deciding how many schoolchildren will be working on the experiment.
– As soon as the experiment is completed, each participant will be asked to enter their data into an online database. "Please ensure you record your data carefully throughout the experiment."
– As soon as the seeds return from space – March/April 2016 – resource packs and seeds will be posted out. Applicants are asked to consider this when selecting the contact for their school or group.
– "You must be registered to the RHS Campaign for School Gardening to apply for seeds. Not registered? Click here to register free. PLEASE NOTE: By pre-registering for Rocket Science, this does not mean you are the account holder for the RHS Campaign for School Gardening. If you don't know who your account holder is, please email us (RHS contact page)."
First flower to bloom in space
Earlier this month, Commander Scott Kelly tweeted some super photos of zinnia flowers in full bloom from the International Space Station. He said it was the first ever flower grown in space.
Commander Kelly, the proud space gardener, showed off his prize zinnia flower in full bloom. (Image: twitter.com/StationCDRKelly)
NASA's botanists wanted to see how plants flower in a weightless environment.
Dr. Gioia Massa, head of NASA's Veggie team, said:
"While the plants haven't grown perfectly. I think we have gained a lot from this, and we are learning both more about plants and fluids and also how better to operate between ground and station. Regardless of final flowering outcome we will have gained a lot."
The flower grew in the Veggie plant growth facility, which was installed in ISS in May 2014.
Video – Tim Peake sends a special Rocket Science message
Major Peake is currently looking after 2kg of rockets seeds on board ISS. British schools can grow these seeds when they are sent back to Earth.