British astronaut Major Tim Peake enjoyed a bacon sarnie and a cup of tea on the International Space Station, 250 miles above Earth's surface, orbiting at 17,150 miles per hour (5 miles per second).
According to Major Peake's Facebook post, he had the bacon sarnie while waiting for his first meal on the International Space Station (ISS). "Boy, that tasted good," he wrote.
The British astronaut, who blasted into orbit in the small Soyuz TMA-19M spacecraft, alongside Russian cosmonaut Yuri Malenchenko and NASA astronaut Tim Kopra, from the Baikonur Cosmodrome in Kazakhstan on December 15, said he was 'loving every minute' of his first three days in space.
Blasting off into space in a rocket clearly builds up the appetite! (Image: facebook.com/ESATimPeake)
The Soyuz TMA-19M spacecraft docked with ISS at 17:33 GMT. Twenty-five minutes later the astronauts opened the hatch after checking that the connection between the 400-tonne Station and the 7-tonne Soyuz was airtight.
They were welcomed aboard ISS by NASA astronaut Scott Kelly and Russian cosmonauts Sergei Volkov and Mikhail Korniyenko, thus marking Major Peake's six-month Principia mission and the culmination of six years of training since he was selected for the European astronaut corps in 2009.
---
---
Tim Peake's mission 'Principia' focus is education
The focus on this mission is education. The European Space Agency says it hopes to inspire and involve students and children with fitness regimes, computer coding and lessons from space with Peake as the instructor.
According to the European Space Agency, Major Peake is the third European astronaut to live on the ISS this year. Danish engineer and astronaut, Dr. Andreas Mogensen, completed a busy 10-day tour in September, and Italian Air Force pilot, engineer and astronaut, Samantha Cristoforetti, ended her record-breaking 199-day mission in June.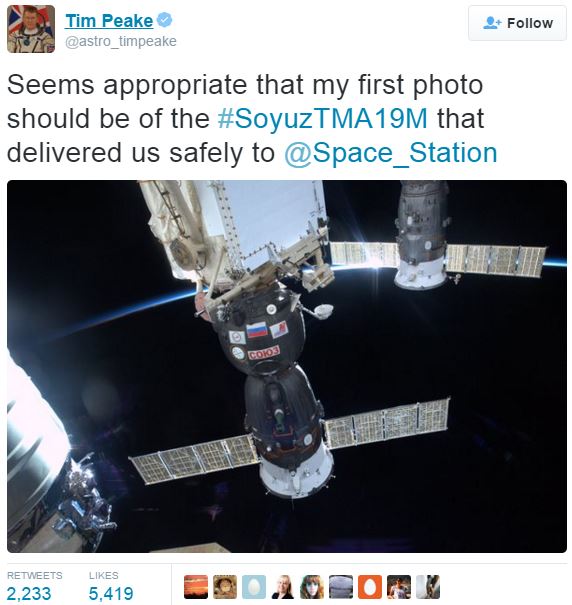 Major Peake's first spectacular photo taken in space. (Image: twitter.com/astro_timpeake)
Major Peake's mission – Principia – was named after Sir Isaac Newton's text outlining the laws of motion and gravity. He will have to carry out several experiments, ranging from tests on certain metals, growing blood vessel cells and protein crystals in a microgravity environment, simulating atomic structures, and charting areas in the brain as they adapt to stressful situations.
After a few days settling in and getting used to working in weightlessness, Major Peake and colleagues will start their 40-hour work weeks running experiments and maintaining ISS.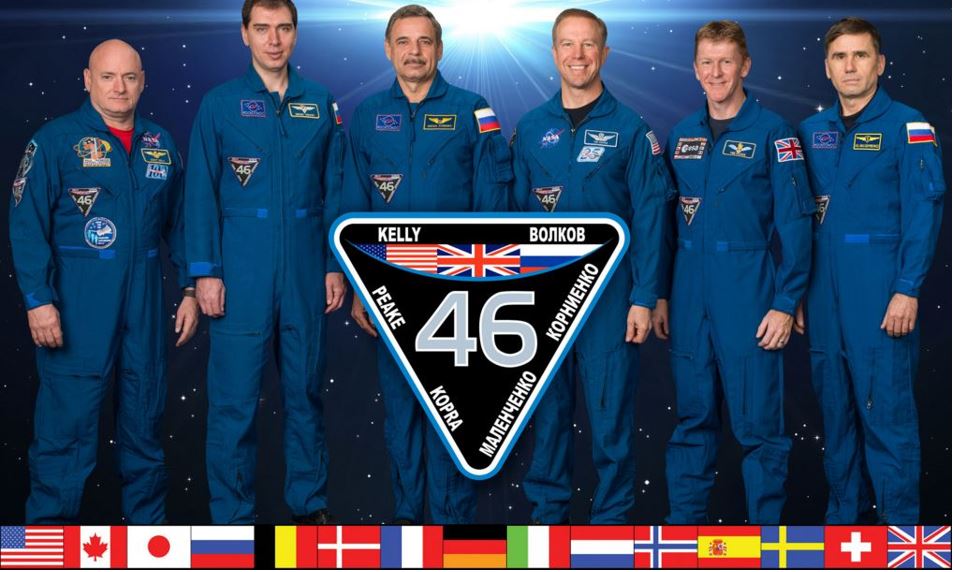 Expedition 46 crew portrait with (from left) Commander Scott Kelly and Flight Engineers Mikhail Kornienko, Sergey Volkov, Timothy Peake, Timothy Kopra and Yuri Malenchenko. (Image: NASA Flickr. Credit: Robert Markowitz)
Two of their space-mates – Mikhail Korniyenko and Scott Kelly – have been aboard ISS for over 300 days (since March) as part of their mega-stay to find out how the human body adapts to longer missions.
According to the Principia website:
"On the morning of Tim's launch, 300 Cadets gathered at the Science Museum and graduated to become 'Agents' of Unlimited Space Agency. The achievement was for completing all 6 Missions of The Astro Science Challenge and learning about a range of Space Science topics, including space weather, healthy living, astronomy and coding."
"Cadets were awarded certificates and pin badges and special awards were given out to some outstanding work. Cadets also got to meet Jon Spooner 'Director of Human Space Flight', Alice Kuiper 'Head of Cadet Training' who feature on the online website that the project is delivered on."
"It was also revealed that Mini Jon (the protagonist in the project's story) had also successfully launched to space, becoming the first Astronaut from the Unlimited Space Agency to do so."
So far, close to 10,000 children and students have been engaged with the project and been inspired by Major Peake's mission.
Video – Awesome work Cadets & Agents of UNSA!
Cadets and Agents celebrate patron Tim Peak's mission to the International Space Station during the first phase of the Astro Science Challenge.