The much-awaited spacewalk by British astronaut Major Tim Peake had to end early because his US colleague, Colonel Tim Kopra, reported a 'small amount' water in his helmet. Even so, the first spacewalk ever done by a Briton lasted four hours. Today the nation cheered and breathed a sigh of relief when he was safely back in the space station.
Even though it was just a tiny amount of water in Colonel Kopra's helmet, under the International Space Station's ruling, a spacewalk must be terminated, so flight director Royce Renfrew followed protocol and ended the event early at 16:58 GMT.
In 2013, Italian astronaut Luca Parmitano developed a significant helmet water leak, which obscured his vision. This was a life-threatening situation. Major Parmitano, an Italian Air Force pilot, had to be helped back by US astronaut Chris Cassidy.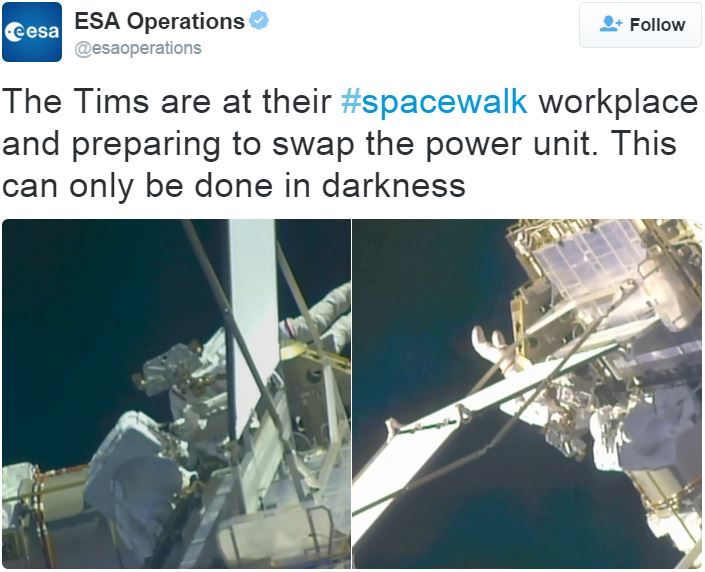 The two Tims out on their spacewalk earlier today. (Image: twitter.com/esaoperations)
Since then, the rules have been tightened up.
Colonel Kopra, who had already done two spacewalks, which makes him a 'veteran spacewalker', told mission control that a water bubble measuring just a few inches across had developed on the inside of his helmet.
Mission controllers believe the water came from the suit's cooling system, given that the astronaut was able to sample it and described it as 'cold'.
---
---
Two Tims' spacewalk back took 15 minutes
It took Major Peake and Coloner Kopra fifteen minutes to get back to the Quest airlock after being told to return to the space station.
As soon as the two astronauts were safely inside and the outer airlock hatch had shut tight, Major Peake thanked mission control: "You guys did a great job," he said.
Station commander, NASA astronaut Scott Kelly, as well as the two Russian Roscosmos cosmonauts Sergey Volkov and Yuri Malenchenko, were on hand.
As soon as the inner hatch was opened, the three astronauts helped Major Peake and Colonel Kopra get out of their spacesuits and used towels to dry the American's face. Photographs will be taken of the affected suit to document how extensive the leak was. They will also use a syringe to take a water sample and retrieve the helmet absorption pad to find out what may have prompted the moisture to form.
Tim – the first Brit to do a spacewalk! Millions of Britons cheered when Tim Peake, filmed here from Tim Kopra's helmet camera, made history. (Image: twitter.com/spacegovuk)
Colonel Kopra said "So far, I'm OK." He later said the water bubble was four inches long and getting thicker.
NASA insisted that the incident was not an emergency and stressed neither astronaut was in danger. In a live broadcast of the spacewalk on NASA TV, mission commentator Rob Navias said "The crew is not in any danger whatsoever."
Spacewalks are a routine part of life for astronauts on board the ISS. They are generally carried out to repair equipment or gather material for experiments.
Colonel Kopra had reported abnormal CO2 (carbon dioxide) readings from his suit. However, ground controllers were not alarmed and put it down to a sensor error.
The two astronauts safely back from their spacewalk. (Image: twitter.com/Space_Station)
Aim of spacewalk completed
According to NASA, about two hours into today's spacewalk, the two astronauts – often referred to as 'the two Tims' – completed their main mission, which was to replace the failed voltage regulator that caused a loss of power to one of the space station's eight power channels in November last year.
They then routed cables in advance of International Docking Adapter installment work to support commercial crew vehicles.
The eight solar arrays that convert energy from sunlight to electricity are made of thousands of solar cells. The arrays, altogether, can generate between 84 and 120 kilowatts of electricity – enough to power over 40 homes.
Major Peake, 43, blasted off to the ISS as part of a six-month mission for the European Space Agency in December 2015, becoming the first Brit in space since chemist Helen Sharman travelled on a Soviet spacecraft and visited the Mir station for eight days in 1991 – Major Peake is the first ever to do so under a British flag.
The electrical power system in the space station has more than 8 miles (12.9 km) of wiring.
As a precaution, #spacewalk terminated due to small amount of water in @Astro_Tim's helmet. https://t.co/KX5g7zfYQe https://t.co/6sRiiiLFPo

— NASA (@NASA) January 15, 2016